Published 4/2/2019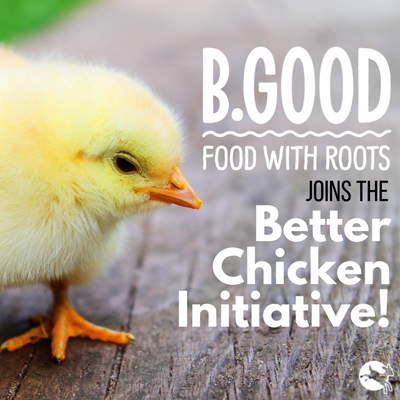 We're starting the week off right: With another major food company joining Compassion's Better Chicken Initiative!
Today, Boston-based fast casual chain B.Good, long committed to earth-friendly and community-supportive sourcing, acknowledged consumer concern for animal welfare by agreeing to meaningful improvements for chickens raised for meat.
This critical step forward paves a path to improve the lives of chickens across the country by transitioning to healthier genetics, increasing room to roam, and providing access to crucial enrichments that allow birds to be birds.
Specifically, B.Good has committed to implement the following changes by 2024:
Source only chicken breeds that are approved by Global Animal Partnership (GAP) as having higher welfare outcomes;

Source only chickens that are given more space, per GAP's standards;

Ensure all chickens sourced have an improved environment, including litter, lighting and enrichment, per GAP's standards;

Source only chickens that are more humanely processed, through a multi-step, controlled-atmosphere system; and

Demonstrate compliance with these standards via third party auditing.
Why are these changes so important? The modern chicken raised for meat on factory farms have been bred to grow so big, so fast that the animals are little more than prisoners in their own bodies. These birds are then crammed so tightly into dimly-lit sheds that they routinely experience respiratory distress, broken limbs, and cardiac arrest. In order to end this unnecessary suffering, B.Good joins more than one hundred other food companies in the US taking a stand.
However, this is not the only step B.Good has taken to move away from cruel, destructive factory farming practices. Currently, 100% of shell eggs served in their restaurants are cage-free, and today, B.Good confirmed that by 2022, 100% of eggs used as ingredients in their meals will be cage-free, as well. Further, by the end of 2020, the company plans to eliminate pork from producers that utilize barren, restrictive gestation and farrowing crates that prevent pigs from simply turning around.
Compassion in World Farming applauds B.Good's continued efforts to build a more humane, just, and sustainable food system, and looks forward to working with the company in the future to assist in meeting their commitments.
2019 is shaping up to be an incredible year of progress for farmed animals—all thanks to our tireless, compassionate network of supporters who are demanding better for chickens.