From corporate boardrooms to the halls of government, public petitions to protest lines, bookshelves to social media feeds, 2019 was the most compassionate year yet in the fight to end factory farming. Here's just a taste of what you made happen for animals, people, and the planet in 2019: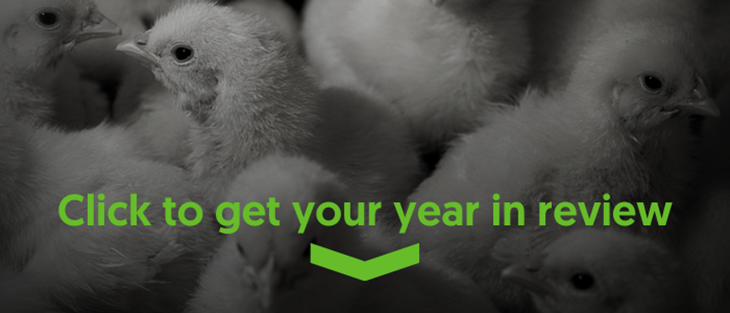 View your 2019 Impact here.
---
Compassion in World Farming is laser-focused on ending factory farming, the single biggest cause of animal cruelty on the planet. Our highly efficient and effective US team of animal welfare advocates is making real progress to improve the lives of millions of farm animals. Here's what we've been up to lately:
Giving hens room to roam
Eggs from caged hens will soon be a thing of the past
We're in the midst of a huge moment for egg-laying hens! Many of the world's largest and most influential food companies have made historic cage-free egg commitments, allowing millions of hens the space to strut, flap, and perch.
Compassion is proud to have collaborated with the biggest players in the industry to help them establish policies that ditch the cages and acknowledge consumer demand for improved animal welfare standards. In the past two years, we have helped secure cage-free policies from:
Nearly every major food company—including all of the nation's top 25 food retailers—have committed to transition to 100% cage-free supply chains.
And we're dedicated to making sure these companies deliver on their promises: in 2017, we launched EggTrack, a first-of-its-kind progress tracking tool designed to ensure companies can and will stick to their cage-free egg commitments, encourage transparency in the marketplace, and provide assistance to food businesses during this critical transition. Check out the first annual EggTrack report and get the details on company progress.
Fighting for better chicken
Companies commit to better genetics and living conditions
Chickens raised for meat endure the most grueling lives of any farmed animal. Since 2012, our Better Chicken Initiative has advocated for the use of healthier, slower-growing breeds—and better living conditions that offer more space, natural light, and enrichment. Thanks to the passion and generosity of our supporters, major food companies have heard us loud and clear:
Following a Compassion USA campaign, Perdue made waves in 2016 with its detailed animal welfare plan—the first of its kind in the chicken industry. And in 2017, they became the first major chicken producer to commit to meeting demand for higher welfare chicken—truly a game-changing move!
Over 60 major food businesses—from food service companies to restaurant chains to manufacturers—have committed to better chicken. Among their ranks are huge names like Subway, Burger King, Jack in the Box, Qdoba, TGI Fridays, Moe's Southwest Grill, Chipotle, Boston Market, Red Robin, Whole Foods Market, Campbell Soup Company, Nestlé, Kraft Heinz, and more. And the progress shows no sign of slowing down!
We continue to forge unlikely partnerships with factory farm owners who want to speak out against injustices in the chicken industry. As a result of these videos, thousands of supporters have petitioned companies for better chicken.
Our annual Pastured Poultry Week has brought together chefs from New York to Atlanta to highlight communities' need for better chicken, raised humanely and sourced sustainably.
For the past two years, chicken companies and food businesses have taken the unprecedented step of joining us at our Better Chicken Leadership Forum, where the people with the power to create change gather to discuss solutions to the most pressing chicken welfare issues—and the positive opportunities presented by the shift to higher welfare.
Advocating for consumers
Consumers win in fight for honest food labels
Factory farming isn't only dangerous for the animals—it impacts our health, the environment, and worker safety. And as customers demand more information about where their food comes from and how animals are treated, Compassion USA is working to bring consumer issues to the fore:
Celebrating progress
Good Farm Animal Welfare Awards motivate businesses to make animals a priority
Our Food Business Team works hard to make farm animal welfare a key priority for companies in every sector of the industry. When top food companies commit to meaningful change, the rest often follow, and that's why we're proud to recognize corporate leaders paving the way for farm animal welfare:
Since 2007, our Good Farm Animal Welfare Awards have highlighted companies committed to establishing higher welfare standards in their global supply chains. In 2017, four US companies were recognized, including Whole Foods, Noodles & Company, and Shake Shack.
Compassion in World Farming is a founding member of the Business Benchmark for Farm Animal Welfare (BBFAW), the world's leading measure of company performance on farm animal welfare and transparency. Our ratings drive corporate decision-making and have inspired change within some of the world's biggest companies.
Top food industry investors are taking note that consumers care about animal welfare. In a first-of-its-kind letter, 18 institutional investors signed on to take farm animal welfare policies into account when analyzing food companies, and to encouraging high standards and transparency across the food industry. And CIWF is proud to work with FAIRR (Farm Animal Investment Risk and Return) as they demonstrate to food companies the bottom line benefits of transitioning to higher welfare in their supply chains.
Spreading the word
The movement to end factory farming grows exponentially
People in the U.S. and around the world are demanding change for farm animals, and our movement is gaining momentum. In the past few years, our campaigns have reached over 200 million people and counting:
Compassion's fight for better chicken has been featured in The New York Times, The Washington Post, Forbes, National Geographic, BuzzFeed, Cosmopolitan, and more— including a feature on HBO's Last Week Tonight with John Oliver.
Millions have tuned into our YouTube channel to watch farmers speak out, learn the truth about factory-farmed chicken, cheer Harry Potter actress Evanna Lynch as she kicked down the doors of factory farming—literally—and demand that our top grocers kick cages to the curb.
Our supporters have signed our petitions and sent tens of thousands of emails to supermarkets asking for higher welfare standards and increased transparency—and thousands more are engaging with Compassion USA in their inboxes and their Facebook, Twitter, and Instagram feeds.
You are the change
We work hard to create real, measurable change in the lives of farm animals, but none of this would be possible without our passionate supporters. Thank you for standing up for farm animals and demanding better from our food system. To help power our food business program and advocacy campaigns, please consider making a donation.