We campaign with one goal in mind: to end cruel factory farming.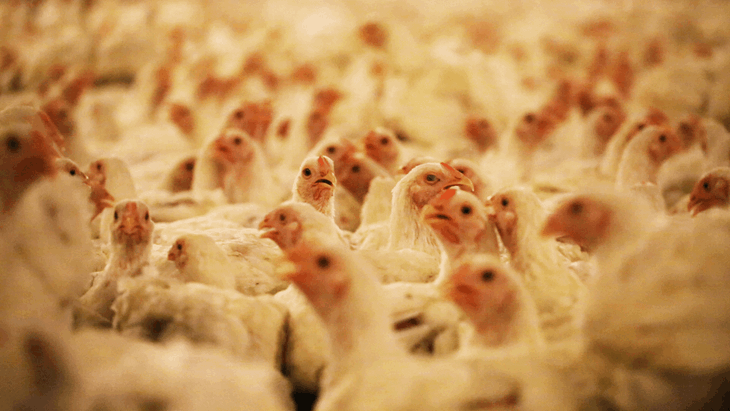 Our broken food system is bad for animals and humans alike, and we work tirelessly to build a world that's more compassionate for animals, more just for farmers, and more transparent for consumers. Change is happening faster than ever—and thanks to you, the momentum continues to build. Looking for ways to join the fight? Read on to find out how you can improve the lives of animals!
Tell Congress: Protect Animals and Workers.
The House of Representatives recently introduced critical legislation to stop the reckless high-speed slaughter of pigs and chickens during the COVID-19 pandemic—we must make sure it passes! Use our form to quickly send an email to your representative today.
Demand Better for Billions of Fish!
Every day, fish farmed and wild-caught fish endure lives of pain and misery—but not one of the five largest fish certifications ensures meaningful welfare protections for these complex, emotional creatures. Take 60 seconds right now, and email the CEOs of these certifications demanding they do better for billions of fish!
Hold Ruby Tuesday Accountable: Recommit Cage-free!
In 2016, Ruby Tuesday publicly committed to sourcing 100% cage-free eggs—but they broke that promise. Not only did Ruby Tuesday cease reporting progress on their commitment and ignore continued requests for transparency, but they also completely removed their commitment from their website. Ruby Tuesday must be held accountable. Tell them to break cages, not promises! Use this form to demand transparency today.
Eat Plants. For a Change.
If our food system continues on its current path, it will mean skyrocketing greenhouse gas emissions, catastrophic wildlife destruction, and perpetual animal suffering. We need to do more. And it starts with less. Less meat, eggs, and dairy on your plate means more progress for animals, people, and the planet—and more room for delicious plant-based foods! Sign up for free resources on how to eat less meat.
Discover the chicken industry's disgusting secret.
To meet high demand, chickens have been genetically manipulated to grow too big, too fast, while living sedentary lives on crowded, dirty factory farm floors. The chickens have changed—and the meat has, too (and it's nasty...). Find out what that means for animal welfare…and for your health.
Shop better, eat better.
With so much (mis)information and so many confusing food labels out there, it's easy to get overwhelmed. We broke it down, item by item, to help you choose food that's better for animals, the planet, and your health. Click here to download the—100% free!—Compassionate Food Guide.
Join the movement for Better Chicken.
Chickens suffer far more than any other farmed animal—and because factory farming has dramatically degraded their living conditions, dangerously warped their genetics, and cut corners to ramp up production, both chickens and consumers are paying the price. Luckily, there's a better way—click here to get the facts and get involved.