We campaign with one goal in mind: to end cruel factory farming.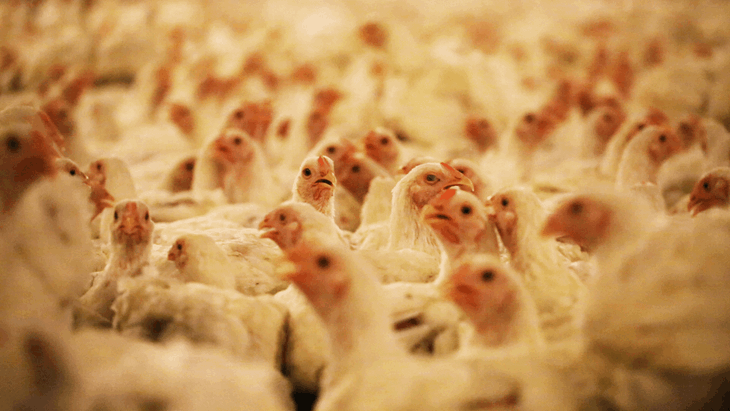 Our broken food system is bad for animals and humans alike, and we work tirelessly to build a world that's more compassionate for animals, more just for farmers, and more transparent for consumers. Change is happening faster than ever—and thanks to you, the momentum continues to build. Looking for ways to join the fight? Read on to find out how you can improve the lives of animals!
Ask Ruby Tuesday: Are you Still Cage-free?
Last year, Ruby Tuesday publicly reported progress on their cage-free egg commitment—this year, they ghosted us and their consumers... Not only did they ignore continued requests to report, but they they also completely removed their commitment from their website. Don't let Ruby Tuesday go back on cage-free! Use this form to ask for transparency today.
Tell the USDA: The Pork Industry Cannot Police Itself!
The USDA's Food Safety and Inspection Service (FSIS), in charge of enforcing the Humane Slaughter Act, wants to strike down vital regulations on pig slaughter to recklessly hike line speeds—directly resulting in a greater chance of pigs being scalded alive, worker injury, and dangerous outbreaks of foodborne illness. Send a message directly to FSIS Administrator Carmen Rottenberg to demand they withdraw this unethical proposal!
Eat Plants. For a Change.
If our food system continues on its current path, it will mean skyrocketing greenhouse gas emissions, catastrophic wildlife destruction, and perpetual animal suffering. We need to do more. And it starts with less. Less meat, eggs, and dairy on your plate means more progress for animals, people, and the planet—and more room for delicious plant-based foods! Sign up for free resources on how to eat less meat.
Discover the chicken industry's disgusting secret.
To meet high demand, chickens have been genetically manipulated to grow too big, too fast, while living sedentary lives on crowded, dirty factory farm floors. The chickens have changed—and the meat has, too (and it's nasty...). Find out what that means for animal welfare…and for your health.
Shop better, eat better.
With so much (mis)information and so many confusing food labels out there, it's easy to get overwhelmed. We broke it down, item by item, to help you choose food that's better for animals, the planet, and your health. Click here to download the—100% free!—Compassionate Food Guide.
Join the movement for Better Chicken.
Chickens suffer far more than any other farmed animal—and because factory farming has dramatically degraded their living conditions, dangerously warped their genetics, and cut corners to ramp up production, both chickens and consumers are paying the price. Luckily, there's a better way—click here to get the facts and get involved.