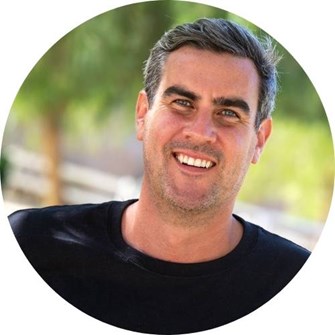 Ben Williamson
US Executive Director
Ben Williamson leads Compassion in World Farming's US office, overseeing the running of its campaigns, food business, and operations. Originally from London, England, Ben has over a decade of experience working for leading animal protection organizations in both the United States and United Kingdom. As a lead spokesperson, Ben has made numerous television appearances including NBC, CNN, Fox News, CBS, and Good Morning America and authored numerous op-ed pieces in USA Today, Newsweek, New York Daily News, Independent and more.
Ben holds a Master's degree in Political Science and Political Economy from London School of Economics and Political Science and a Bachelor's degree in Economics from University College London.
Food Business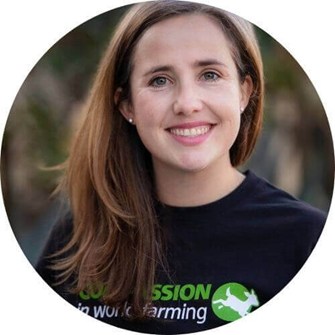 Dr. Hillary Dalton
Senior Research Manager

Hillary Dalton is the Senior Research Manager at Compassion in World Farming USA. Hillary holds a PhD in poultry behavior and welfare from the University of Guelph, an MSc in applied animal behavior and animal welfare from the University of Edinburgh, and a BSc in animal biology from the University of Alberta. Hillary previously served as a post-doctoral associate at Newcastle University, overseeing precision agriculture research on behavior, welfare and health topics in pigs and poultry.
During her career, Hillary has published several peer-reviewed scientific articles and has presented at several international conferences. Hillary uses her technical knowledge and experience to advise Compassion USA on strategies to improve farmed animal welfare and the sustainability of modern food production practices.
---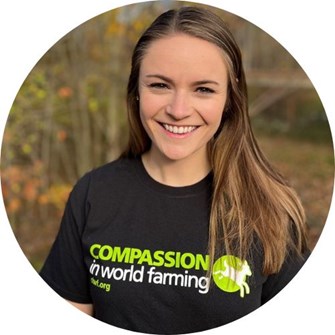 Kourtney Houk
Food Business Manager

Kourtney serves as a Food Business Manager with the U.S. team, working closely with major food businesses to adopt and build upon commitments for animal welfare. She is passionate about transforming food systems and is excited to partner with companies to drive systemic change toward regenerative agriculture and more sustainable farming practices.
Kourtney holds a Master's in Higher Education Administration and a Bachelor's in Hospitality Business from Central Michigan University. She lives in Michigan and enjoys spending time on her growing homestead gardening, baking, and raising chickens.
---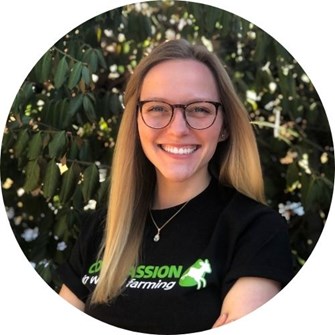 Julia Johnson
Senior Food Business Manager
In her role as Senior Food Business Manager, Julia Johnson works with major U.S. food businesses, supports strategy development, and manages the production of food business assets, all with the central objective of driving improvements in farm animal welfare and environmental sustainability in our food system. She is particularly interested in regenerative agriculture, transitional farming, and ensuring biodiversity in our ecosystems. She holds a Master of Science in Anthrozoology from Canisius College, a Master of Divinity from Yale University, and a Bachelor of Arts from Michigan State University.
Outside of her work with Compassion, she is an equestrian at heart and lives in Michigan with her family and paint horse.
---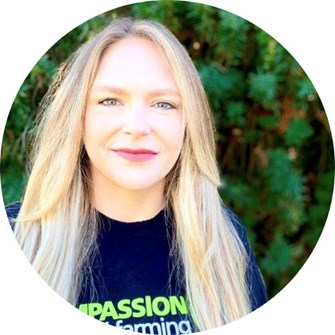 Gabrielle Reisner
Food Business Manager
As Food Business Manager, Gabrielle Reisner leads projects with food business companies to deliver improved farmed animal policies. She combines her knowledge of animal welfare and public policy with years of experience in the food industry to assist companies in mapping out and meeting welfare and sustainability goals.
With roots in Memphis, home of the annual World Championship Barbecue Contest, she understands that food represents culture, history, religion, and so much more and that we can honor these experiences by improving our current factory farming practices and food systems.
Gabrielle holds a Master of Science in Animals and Public Policy from the Cummings School of Veterinary Medicine at Tufts University and a Bachelor of Science in Education from the University of Memphis. Outside of Compassion in World Farming, she is committed to local community organizations and enjoys keeping her neighborhood's free fridge stocked.
---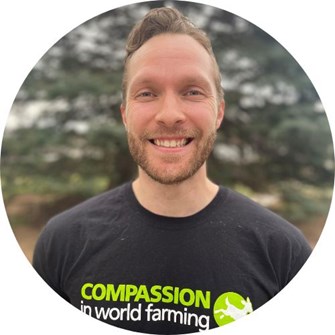 Ryan Robinson
Corporate Compliance Manager
Ryan Robinson is the Corporate Compliance Manager at Compassion in World Farming USA, engaging with major food industries in upholding their welfare policies and commitments. He is especially interested in working to improve the environmental impact of food systems. Ryan has been passionate about animal welfare and advocacy since graduating with Bachelors in Biological Sciences from Clemson University and has worked with various nonprofit organizations and rescues since.
In his free time, Ryan enjoys volunteering with local and state animal welfare efforts, spending time by the beach, and playing with his rescue pup, Maya.
Campaigns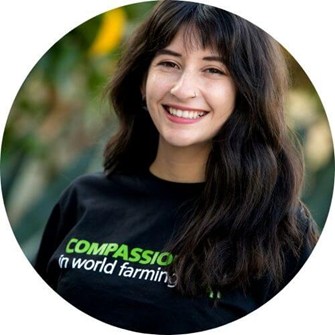 Audry Dubon
Media and Communications Manager
Audry Dubon is the Media and Communications Manager for Compassion USA, helping to tell the organization's story through written and visual communications. She comes to Compassion with a variety of nonprofit experience from global health and human service organizations to local community nonprofits. In her role, Audry hopes to inspire others to play their part in the end of factory farming by staying informed and making small lifestyle changes with a big impact.
She received her Bachelor of Science in Mass Communications from Virginia Commonwealth University, with a concentration in Creative Advertising. Outside of her work with Compassion, Audry is a yoga teacher and cares for her three rescue pets.
---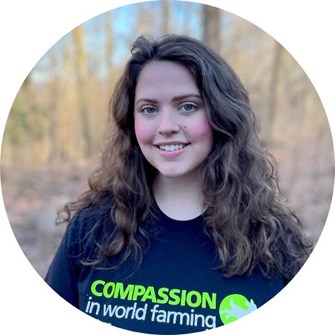 Madison Longenecker
Public Relations Manager
Madison Longenecker works toward developing Compassion USA's reputation as the leading authority on farmed animal welfare through securing media coverage on Compassion's missions, annual reports and campaigns. In her past roles, she has worked as a communications specialist, as an assignment editor in broadcast television in Pittsburgh and as an investigative reporter for her college newspaper. Her experience has provided her with a keen media sense and passion for storytelling.
Madison earned her Bachelor of Arts degree in Journalism and Public Relations with an English minor from the Indiana University of Pennsylvania. Living in the Appalachian mountains of Pennsylvania, Madison loves to crochet, spend time in nature hiking, kayaking and bicycling and most of all, spend time with her family, friends, her husband Carter and their two rescue cats, Danni and Spencer.
---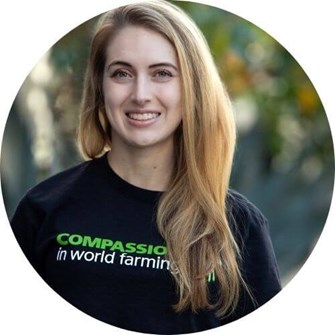 Allison Molinaro
Campaigns Manager
Allie Molinaro works to advance Compassion USA's state and federal policy work, thought leadership, and activist mobilization. She focuses her work on placing factory farming in a broader context, highlighting its impacts not only on animal welfare but also on pollution, climate change, public health, and social justice. Prior to joining Compassion, Allie assisted in public education and donor relations at NRDC.
Allie holds an M.S. in Environmental Policy and Sustainability Management from The New School and a B.S. in Environmental Science from the University of Connecticut.
Fundraising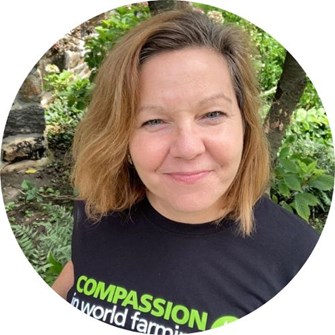 Callie Hennessy
Major Gifts and Development Director
Callie Hennessy, a relationship-builder, plant mom, and amateur vegan chef, is thrilled to be aligning her professional skills with her personal passion for farmed animal welfare and animal rights in her role as Major Gifts and Development Director for Compassion USA. In her work, she seeks the partnership of individuals, trusts, foundations, and corporate donors so that together we can be the voice for billions.
A Bachelor of Arts degree in International Relations from Boston University equipped Callie for years of fundraising with international NGOs in Switzerland and the United States. She currently lives in New York City with her daughter but her favorite place of all is outside where you will find her running, swimming, or camping in the open air.
---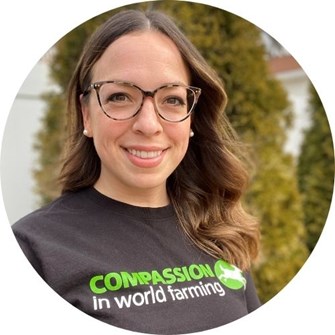 Meghan Endicott
Donor Relations Coordinator
Meghan Endicott brings over 11 years of experience in the nonprofit sector to her role as Donor Relations Coordinator at Compassion in World Farming. Utilizing her extensive experience in donor stewardship, Meghan works to develop and maintain meaningful relationships with Compassion donors and supporters. Through strategy, data, interpersonal skills, and command of a variety of communication channels, Meghan recognizes and promotes the important role each individual supporter holds in ending factory farming.
Outside of work, Meghan can be found volunteering her time on the Board of Directors of Tenth Life Cat Rescue, an organization that prioritizes the rescue and care of cats with special needs.
---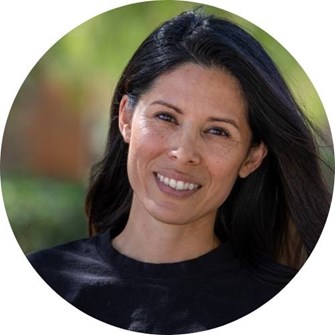 Marissa Valladolid
Individual Giving Manager
Marissa joins Compassion USA as the fundraising team's Individual Giving Manager. With a focus on growth and engagement, she develops informative campaigns to fuel Compassion's vital programs, creating opportunities for everyday animal lovers to become extraordinary animal advocates.
After more than four years of development and communications work in the farmed animal welfare movement, she remains committed to learning and connecting with other mission-driven individuals in meaningful ways. When not spearheading the next big fundraising push, she can usually be found hanging with her two best friends, Romeo and Cruz—small Chihuahua mixes with larger-than-life personalities.
---
Want to join our team? Take a look at our current open positions!