Animal Welfare Sector Spotlight: Hospitality
The hospitality industry provides a high-quality atmosphere, experience, and service for guests. But how does farm animal welfare factor into this high-quality experience? To provide the highest quality experience, hospitality companies can serve meals with elevated sourcing standards. Hotels and cruise lines serve meals to thousands of guests daily, and the sourcing of animal products is a critical aspect of their operations. Some of these companies have recognized the importance of adopting strong animal welfare policies, but others have yet to commit to creating a more humane world. Americans continually rank animal welfare as a top concern related to their food choices, and it's time for companies to listen. (1) This sector spotlight report showcases the progress made in the United States by hotel companies and cruise lines toward animal welfare commitments, with a specific focus on laying hens, broiler chickens, and pigs.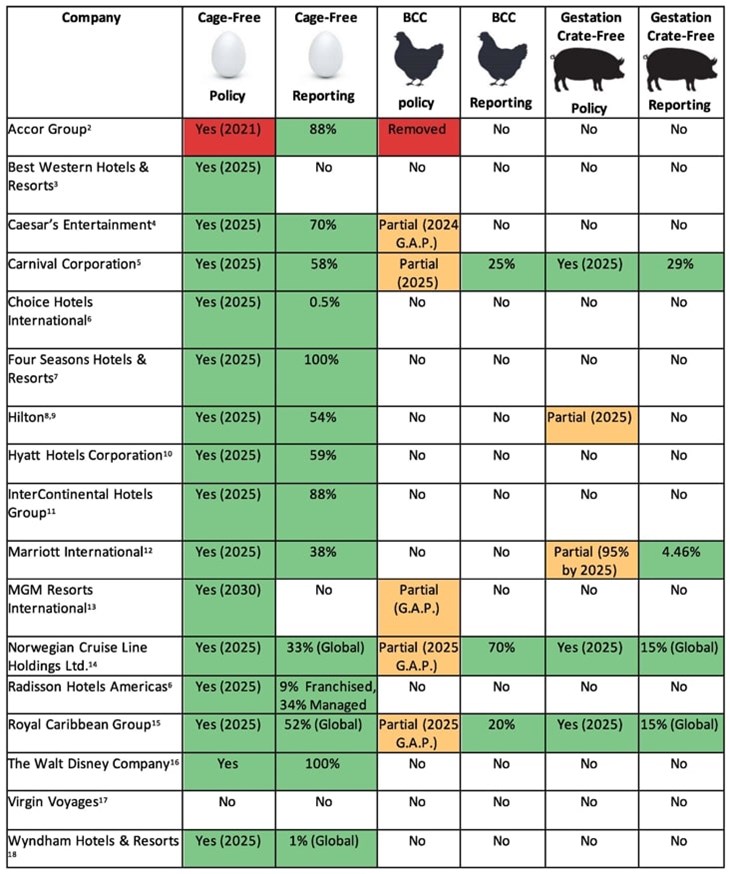 Laying Hens: Cage-Free Eggs
Cage-free eggs have become the global symbol of improved animal welfare standards. Conventional eggs are produced from hens confined to a cage as small as an 8x11" sheet of paper for their entire lives. Cage-free eggs are produced from hens who have the freedom to move around within an indoor barn and are never confined in cages. (19) Further, free-range and pasture-raised systems allow chickens meaningful access to the outdoors.
Hundreds of companies worldwide have commitments to source 100% cage-free eggs within the next few years. 100% Cage-free egg commitments are the most common animal welfare commitment within the hospitality industry and most of these companies are reporting progress toward these commitments. Every hotel featured in this Sector Spotlight has a commitment to sourcing 100% cage-free eggs. Most hotel companies have made notable progress in transitioning to cage-free eggs, with two companies – Four Seasons Resorts and Hotels and The Walt Disney Company – meeting their 100% cage-free egg goals for the United States. Accor Group missed its initial 2021 deadline but has continued to report data as it progresses toward its goal. The only two hotel companies that are not reporting progress toward their cage-free commitments are Best Western Hotels & Resorts and MGM Resorts International.
Alongside hotel companies, every major cruise line aside from Virgin Voyages has a 100% cage-free goal and has made substantial strides in sourcing cage-free eggs for onboard dining facilities.
Broiler Chickens: The Better Chicken Commitment
Over nine billion chickens are raised for meat in the United States alone. (20) Some hospitality companies have acknowledged the need to address welfare concerns for broiler chickens, but not as many as cage-free eggs. Companies can make progress in addressing the welfare of chickens in their supply chains by committing to the Better Chicken Commitment (BCC), the leading set of scientific standards to raise chickens in higher-welfare conditions throughout the birds' lives. (21) Unlike cage-free egg commitments, no hotel companies currently have commitments to the BCC. Only two hotels – Accor Group and Caesar's Entertainment – had previously committed to the BCC, but both have since removed their policies. Caesar's Entertainment and MGM Resorts International have committed to sourcing chicken raised in accordance with Global Animal Partnership's standards by 2024 but do not have a statement about multi-step controlled-atmosphere stunning. (22) Although these hotel companies have publicly demonstrated their commitment to broiler chicken welfare for on-farm conditions, none of them are reporting progress. (23) Hyatt Hotels Corporation has taken a step to demonstrate its welfare priorities through responsible breeds and implementing practices that address stocking density, slaughter, and housing; however, Hyatt has yet to publicly commit to the BCC.
Cruise lines are leading by reporting on their sourcing, but none have committed to a full BCC policy. Virgin Voyages has yet to make a public statement about improving broiler chicken welfare. Norwegian Cruise Line Holdings Ltd. and Royal Caribbean Group have committed to sourcing chicken certified by Global Animal Partnership and Carnival Corporation has committed to sourcing chicken compliant with either the BCC or Global Animal Partnership. While all three of these companies are making progress, developing a statement around controlled atmosphere stunning and an implementation plan for the remainder of their supply chains is crucial to reach their commitments. We encourage all hospitality companies to ensure good welfare for these animals.
Pigs: Gestation Crate-Free Pork
Mother pigs – referred to as sows – are confined in a gestation crate during their pregnancies. (24) This crate does not allow her to turn around or lie down comfortably, leading to physical and emotional distress for these intelligent animals. Recognizing the need for change, a few hospitality companies have adopted policies to shift away from gestation crates and instead allow sows to be raised in group settings.
There is a major opportunity among hospitality companies to make commitments to source higher-welfare pork products. Only two hotel brands, Hilton and Marriott International, have commitments set to source group-housed pork, and only Marriott has reported regional and global progress. Hyatt Hotels Corporation states that its suppliers should avoid the use of gestation crates, but it does not have a specific goal to convert its supply. Three of the major cruise lines – Carnival Corporation, Norwegian Cruise Line Holdings Ltd., and Royal Caribbean Group – have committed to source 100% crate-free pork globally by 2025 and are all reporting progress, setting the standard within the hospitality sector. Virgin Voyages is falling behind without a commitment to source higher-welfare pork. As the supply of group-housed pork continues to increase, companies can demonstrate their commitment to high quality ingredients by publicly committing to ensure good welfare for these animals.
Moving Forward
Hospitality companies have made progress toward animal welfare commitments in recent years, particularly in the areas of cage-free eggs, the Better Chicken Commitment, and crate-free pork, but more can be done across this sector. Several top hotel companies have not set full policies to support these areas of animal welfare. By developing more robust commitments, these companies can demonstrate the importance of responsible sourcing and more humane treatment of animals in their supply chains. These companies have an opportunity to provide better service by providing higher-quality products for their guests. Compassion in World Farming's Food Business team is eager to support as these companies strive to be leaders in hospitality and service. (25)
Interested in partnering with Compassion in World Farming? Please email FoodBusinessUS@ciwf.org.
References