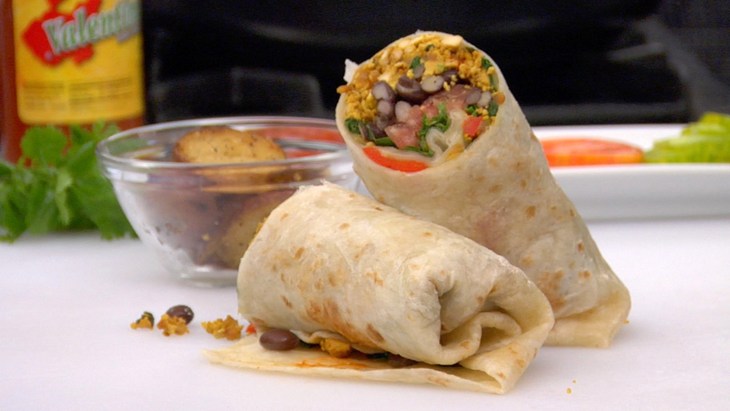 Tofu Scramble & Black Bean Burrito
This recipe originally created and published by Rouxbe.
Makes four servings.
Prep time: 45 minutes
Ingredients:
1 recipe Tofu Scramble
1 recipe Hash Browned Potatoes
1 1/2 cup cooked black beans, drained*
1 tomato, sliced
handful of chopped cilantro
your favorite hot sauce
Instructions:
First, prepare the

 

Tofu Scramble

 

and the

 

Hash Browned Potatoes, gathering the rest of your mise en place while these items are cooking. Alternatively, you can steam or roast some sliced potatoes instead.

*Note: For added flavor, use this Basic Black Beans Recipe for the beans.



To assemble the burrito, place some the tofu scramble onto a heated tortilla and add some of the black beans, potatoes and sliced tomatoes.

Add your favorite hot sauce, if desired, and some fresh cilantro.

Roll the burrito and serve immediately.
Make this recipe? Take a photo, use #EatPlantsForAChange, tag us @CompassionUSA, and we just might share it on social media!
And don't forget to sign up to Eat plants. For a change. for more recipes like this one right to your inbox!