Published 11/7/2018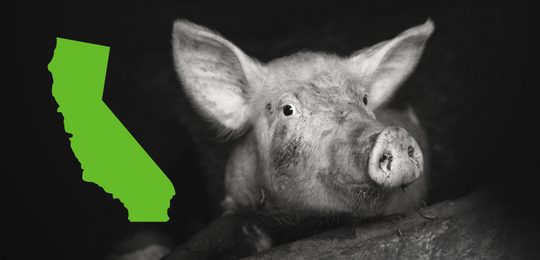 BREAKING NEWS: California consumers just passed Proposition 12, creating the strongest farmed animal protection law in the world! 
Golden State voters just approved a historic ban of cruel cage and crate confinement for egg-laying hens, pregnant pigs, and calves raised for veal—some of the worst-of-the-worst factory farming practices—while also banning the sale of products from out-of-state operations that fail to meet these modest standards.
As a direct result of the time, energy, and resources animal advocates and volunteers put into this campaign, millions of farmed animal lives across the country will be meaningfully improved. And because California represents the fifth largest economy in the world, there is no doubt that this victory will send shockwaves through the factory farming industry. 
"We've worked for decades to protect farmed animals across the globe, and Prop 12 will undoubtedly be the most sweeping law for farmed animals ever enacted," said Rachel Dreskin, US Executive Director of Compassion in World Farming. "Today, for the animals, we celebrate this hugely encouraging step forward."
With this major progress on the books, US consumers have once again demonstrated that protecting farmed animals from needless suffering is a top priority.
We thank all of the amazing supporters of the Prevent Cruelty California coalition and everyone who showed up to the polls to cast your vote—you made this success possible! We're now one major step closer to a world without factory farming. 
We look forward to seeing what else is possible for farmed animals in the coming months!