Published 8/31/2017
Knorr brand, known for its soups, sauces, and bouillon cubes, is furthering its higher animal welfare commitments by announcing specific details the welfare of chickens raised for meat in the US and Canada. They are also improving their animal welfare standards for pigs and cows.
Knorr has committed to the following higher welfare requirement for 100% of the broiler chicken in its supply chain by 2024 for US and Canada:
Transition to strains of birds approved by Global Animal Partnership (GAP) or the Royal Society for the Prevention of Cruelty to Animals (RSPCA) based on measurably improved welfare outcomes.
Reduce stocking density to a maximum of 6 lbs./sq. foot and prohibit broiler cages.
Provide birds enriched environments including litter, lighting, and enrichment that meets GAP's new standards.
Process broiler chickens in a manner that avoids pre-stun handling and instead utilizes a multi-step controlled- atmosphere processing system that induces an irreversible stun.
Demonstrate compliance with the above standards via third party auditing.
Knorr is owned by global manufacturing giant Unilever, a long standing partner of Compassion in World Farming. While Knorr makes up most of Unilever's chicken sourcing, Unilever will meet all of the above standards for chickens. Knorr will additionally require all chickens have access to natural light, which provides additional animal welfare benefits.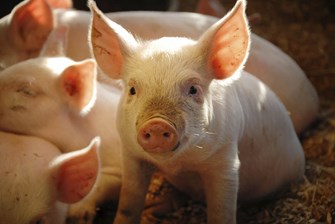 Knorr's commitment will also require all pigs and cows to meet higher animal welfare requirements by 2024 based on Compassion in World Farming's recommendations. Notably, pigs will never be confined in gestation crates or farrowing crates.
"Compassion in World Farming is proud to have worked with Unilever for many years on their global efforts to transition to higher welfare for all farmed animals in their supply chain," said Leah Garces, Executive Director of Compassion in World Farming USA. "Today's pledge further solidifies this commitment and will meaningfully impact the lives of over 50 million birds in North America every year. We encourage other manufacturers to follow their lead and step up to the plate for chickens."
"Through our Sustainable Nutrition strategy we aim to build a better food system," said Matthew McCarthy, Vice President of Foods, Unilever North America. "Knorr is Unilever's largest Foods brand – it's our responsibility to lead the way in improving animal welfare."
We thank Unilever and Knorr for making animal welfare a top priority.