Published 2/12/2015
Farm Animal Welfare an Immature Business Issue in the US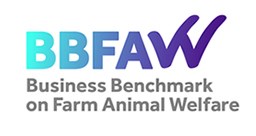 Atlanta, Georgia – Farm animal welfare is an immature business issue in the US, according to a global benchmark published today.
The Business Benchmark on Farm Animal Welfare (BBFAW) today released its 2014 review of how the world's leading food companies are communicating on their farm animal welfare policies.
Aimed primarily at investors, the Benchmark ranks companies on their farm animal welfare management and reporting. The report is put together by an independent secretariat, with funding from leading farm animal welfare organisations Compassion in World Farming and World Animal Protection, and with support from Coller Capital.
BBFAW ranks 80 companies, placing them in categories from Tier 1 (indicating companies are taking a leadership position), to Tier 6 (where animal welfare does not appear to be on the business agenda).
This year's report includes 20 companies headquartered in the US, including Walmart, Tyson and Costco, some of whom have been included in the evaluation for the first time.
Overall, US companies lag behind their European counterparts in reporting on farm animal welfare, suggesting the issue is less developed in the US.
Rachel Dreskin, US Food Business Manager at Compassion in World Farming, says: "The Benchmark is useful in highlighting those companies that perform well on farm animal welfare disclosure and those that have yet to address this issue in their reporting.
"The Benchmark shows that there is currently a disconnect in the US between stakeholder expectations and food companies' level of disclosure. We hope to see increased transparency and disclosure in the coming years, which will serve as a stepping stone toward improved farm animal welfare."
Nicky Amos, BBFAW Program Director, comments: "As with any benchmarking process, the BBFAW does not seek to provide a complete account of a company's performance. It gives an indication of a company's willingness to disclose information. This is important because we know that companies can only report on their performance if they are properly managing it, and it is the vital first step to ensuring that companies are accountable for their farm animal welfare practises and performance."
The 2014 findings reveal an encouraging 45 percent (29) of the 65 companies assessed worldwide since the first report in 2012 have moved up at least one tier. This includes several well-known companies such as HJ Heinz, Aramark, Delhaize Group and Subway.
However, despite the overall progress made since 2012, farm animal welfare remains an under-reported business issue both globally and in the US, with half of the 80 companies assessed in 2014 appearing in the bottom two tiers (Tiers 5 and 6).
Overall, the 2014 Benchmark found:
Farm animal welfare is, relative to other corporate responsibility issues, an underdeveloped issue, with a number of major food companies yet to publish clear policy commitments on farm animal welfare;
No US companies have made the highest tier. However, some US food companies have established systems for managing and reporting farm animal welfare. For example, companies such as HJ Heinz and Hillshire Brands, are starting to respond to the growing interest being paid to the food industry - by investors, by consumers, by the media - on farm animal welfare issues by publishing information about their approaches;
Many companies have yet to demonstrate how they are implementing farm animal welfare policies through their operations or how they are managing their animal welfare performance through target setting and effective monitoring;
Many companies do not yet publish performance measures linked to key welfare production systems or specific welfare outcomes.
Dr Rory Sullivan, expert advisor to the BBFAW, says: "Farm animal welfare as a business issue is immature, with many companies still focusing on strengthening their internal systems and processes.
"A lack of consensus on the performance data that needs to be reported - across species, across geographies and across products - means that companies are unclear about what information they should be reporting.
"But companies expect to face greater customer and NGO pressure to report on performance measures, and many welcome steps by the BBFAW from 2014 to start introducing performance-based criteria."
Philip Lymbery, CEO of Compassion in World Farming, says: "We are encouraged by the range of companies that have made it into the top two tiers of the Benchmark this year. It suggests that it is realistic for food companies to take steps to improve their reporting and disclosure on farm animal welfare, irrespective of their sub sector, geography or ownership."
Mike Baker, Chief Executive at World Animal Protection said: "Consumers increasingly care about where their food comes from and are demanding a better life for farm animals. While it is encouraging to see a growing number of companies in this year's Benchmark with stated commitments to animal welfare, there is clearly still much room for improvement. Companies have the power in their hands to transform the lives of billions of farm animals around the world."
Jeremy Coller, founder of Coller Capital, the world's largest private equity secondaries firm, explained the growing importance of this issue among major investors. He said, "Farm animal investment risks and returns must be managed if we want healthy food on our plates and healthy returns from our portfolios. This report will help investors understand which food companies are taking farm animal welfare seriously. It must surely be a concern that over half of companies currently languish in the bottom two tiers of the Benchmark."
Ends
Notes to Editors
1. The Business Benchmark on Farm Animal Welfare (BBFAW) – now in its third year – has been designed to encourage higher farm animal welfare standards across the food industry.
2. The Benchmark is the first global measure of farm animal welfare management, policy commitment and disclosure in food companies and is designed for use by investors, companies, NGOs and other stakeholders interested in understanding the relative performance of food companies in this area. More information on the programme can be found at www.bbfaw.com.
3. The company-by-company results are presented in Attachment 1 to this release.
4. In total, 80 companies were included in the 2014 assessment; 10 more than last year. The companies represent three primary food business sectors: (a) food retailers and wholesalers; (b) restaurants and bars (a category that includes many of the food service providers), and (c) food producers and manufacturers. The list includes listed and non-listed companies (private companies, partnerships and co-operatives).
5. Marks & Spencer and Coop Group (Switzerland) retain their Tier1 position for the second year running, joined by Waitrose which climbs two places from Tier 3.
6. In Tier 2 for the second year running are The Co-operative Food (UK), J Sainsbury, Noble Foods and Unilever, with Cranswick (up two places) and McDonald's and Migros (both up one place).
7. Retaining their Tier 3 ranking are Arla Foods, FrieslandCampina, Morrisons, Nestlé, Tyson Foods and VION. They are joined by Tesco, Subway, Ahold (Koninklijke) and Group Danone who have all moved up one place and Wendy's, General Mills, JBS who have been included in the survey for the first time. Marfrig drops down one place from Tier 2.
8. Companies were measured on their approach to managing farm animal welfare in three areas: (1) Management Commitment and Policy, (2) Governance and Policy Implementation, and (3) Leadership and Innovation. The assessments were based on information published by companies.
9. Compassion in World Farming and World Animal Protection actively engage with food companies to improve farm animal welfare across their operations and encourage them to report on their welfare standards and practices.
10. Coller Capital was announced as an additional partner of the BBFAW programme in February 2015.