Published 12/9/2013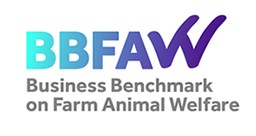 The second Business Benchmark on Farm Animal Welfare (BBFAW) report has revealed that food companies are failing to provide reassurance that farm animal welfare-related issues are being effectively managed.
The Benchmark is the first global measure of food businesses farm animal welfare management, policies and communication. It was created in response to investors, companies and NGOs seeking an understanding on the performance of food companies in this area.
The Benchmark assessed 70 global food businesses including food retailers, wholesalers, restaurants and food producers and found that while over 70% of these acknowledged farm animal welfare as a business issue, only 56% have published a formal farm animal welfare policy and just 41% have published objectives or targets on farm animal welfare.
Farm animal welfare is a key concern and potential risk for investors which many food companies are not effectively managing.
However, there has been progress in three key areas since the first Benchmark in 2012:
A 10% increase in the number of companies identifying animal welfare as a business issue from 46% in 2012 to 56% in 2013.
Coop Group (Switzerland) and Marks & Spencer are the top two ranked companies showing leadership in farm animal welfare.
Several companies have demonstrated significant improvements over the past year: Gruppo Cremonini, Nestlé, Sodexo, Wal-Mart and Waitrose.
Philip Lymbery, Compassion in World Farming's CEO, says:
The Business Benchmark on Farm Animal Welfare has played a catalytic role in putting farm animal welfare on the business and investor agenda.

It has pushed companies to acknowledge farm animal welfare as a business issue and, critically, it has forced them to take action.
The Benchmark is supported by Compassion in World Farming and World Society for the Protection of Animals (WSPA).
Read the 2013 Benchmark report