4/6/2022
by Ben Williamson
A little bit of stress can be a good thing. It can motivate you, increase creativity, and lead to better performance and higher achievement. But all too often stress gets the better of us. And when it beats us, we can't do our part to protect animals.
Recently I was speaking to a doctor about the increasing number of stress-related illnesses as a result of the Covid-19 pandemic. Yes, widespread financial insecurity in addition to global and local social and political unrest are factors, but many of the causes stress are much closer to home.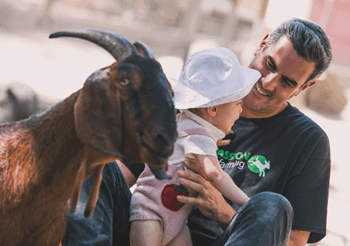 Most of us lucky enough to work from home now are grateful to be able to spend more time with family and avoid the dreaded commute. But the increasing length of the workday and the feeling of being pulled in competing directions has caused an increase in stress-related illnesses. That's the type of stress I try to manage on a daily basis—the feeling that there aren't enough hours in the day.
Activists commonly suffer burnout as a result of stress; from the harrowing images we have to watch to the feelings of helplessness and hopelessness. These weights are even heavier for Black, Indigenous and People of the Global Majority community members who are more often underfunded and overlooked.
Burnout can and usually does lead to a lot of talent leaving the movement before they've realized their potential. This is not a good thing for the long-term interests of animals. One speaker at a recent farmed animal protection leadership conference I attended commented to me how young the participants were. I replied that too many of us leave because of stress and never rejoin.
What can be done about it?
There are plenty of resources online that will tell you how to cope with stress. Here are my coping mechanisms:
Appreciate that the path to victory is long and an end to factory farming won't be achieved overnight. While it's tempting to see the massive scale of suffering and think that you have to do all you can as quickly as you can to help, you have to save some in the tank for later. Supporters and funders can help with this by making monthly gifts and multi-year grants that help activists plan over longer horizons.
Get plenty of sleep. This is one I admittedly fall down, but the benefits of a good night's rest are innumerable and will help give you strength for the next campaign.
Take a break. Have interests outside of animal protection that give you perspective on the movement and a place to unwind and unload. It will make you a better and more balanced advocate for animals.
Be nice to one another. There's a lot to be angry about and many targets to take your anger out on. But the only person suffering through such action is you. Use humor, charm, and knowledge to make the same point and it's more likely to sink in and you're more likely to stay relaxed.
That being said, don't be afraid to set boundaries. You likely have people in your life whose minds won't be changed overnight. Decide when you are able to have difficult conversations and share knowledge, and when your energy could be better spent elsewhere.
Finally, remember that you're on the right side of history. We will see an end to factory farming in our lifetimes. Take comfort in knowing that every action you take will help get us there, but you can't take them all at once. Breathe and try to be optimistic. Animals need you around for the long-term!
---