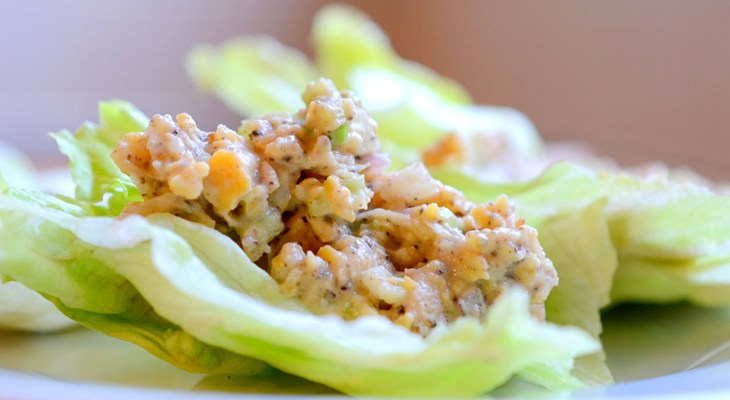 Tuna-Less Salad
This recipe was originally created by and published on Rouxbe.
Makes 3-5 servings
Total Time: 15 minutes
Ingredients: 
3 cups cooked chickpeas (1-28oz can)

2 to 3 tbsp red onion, (or to taste)

 2 to 3 celery stalks (approx. 1/2 cup)

 2 to 3 pickles (approx. 1/4 cup)

 2 tbsp nori seaweed flakes*

 1/2 cup vegan mayonnaise or Cashew Sour Cream

 1 tsp sea salt (or to taste)

 1/2 tsp freshly ground black pepper
Instructions:
Using a pastry cutter, potato masher or a fork, mash the chickpeas to break them up.

Next, finely dice the onion, celery and pickle and add them to the chickpeas. Add the nori flakes, salt and pepper and mix to combine.

Lastly, add the vegan mayonnaise or 

Cashew Sour Cream

. Mix to combine and taste for seasoning. Note: If mixture seems a bit dry, add a touch more vegan mayo or cashew sour cream.
Notes:
* If you do not have nori flakes, you can grind up one or two sheets of nori (the kind used to make sushi) in a spice grinder. The mineral-rich nori adds a nice "from the sea" flavor and look to the mixture.
Make this recipe? Take a photo, use #EatPlantsForAChange, tag us @CompassionUSA, and we just might share it on social media!
And don't forget to sign up to Eat plants. For a change. for more recipes like this one right to your inbox!