4/15/2019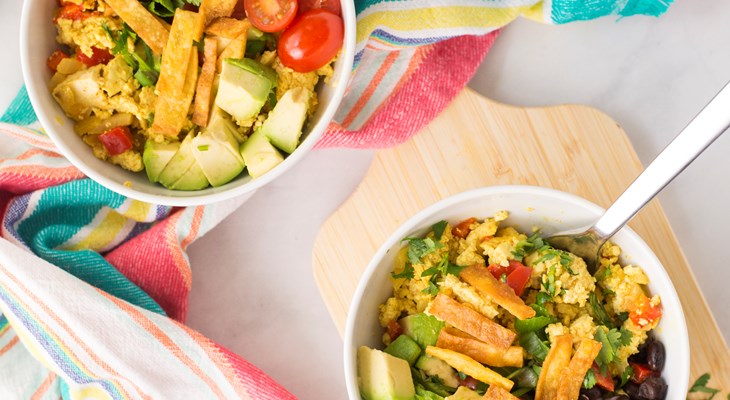 Southwestern Tofu Scramble Bowls
Serves 2-3 people.
Prep Time: 20 minutes.
Cook Time: 10 minutes.
Ingredients:
1 block Tofu- drained and pressed

⅛  teaspoon turmeric powder

1 Tablespoon nutritional yeast

¼  teaspoon cumin powder

¼  teaspoon chili powder

¼  teaspoon salt

¼  teaspoon garlic powder

½  Tablespoon vegan butter (such as Earth Balance)

1 clove garlic

½  yellow onion, diced

½  red bell pepper, diced
Toppings (optional):
Tomatoes, diced

Avocado, sliced or diced

Cilantro, chopped

Green onions, chopped

Tortilla Strips
Instructions:
Mix seasonings, set aside.

Crumble pressed tofu with a fork in a bowl.

Heat pan on medium heat. Add butter, onion, and bell pepper. Saute until onion is translucent.

Add crumbled tofu, garlic, and seasonings, mix well.

Cook for about 2-3 minutes.

Serve warm in bowl. Top with diced tomatoes, avocado, cilantro, green onions, and tortilla strips.
Make this recipe? Take a photo, use #EatPlantsForAChange, tag us @CompassionUSA, and we just might share it! 
And don't forget to sign up to Eat plants. For a change. for more recipes like this one right to your inbox!