8/22/2018
On a day like today, it's important to remember eating plants for a change isn't always about what's on your plate, sometimes it's about what's in your cup!
Did you know that it takes more than 1,000 gallons of water to make just 1 gallon of cow's milk? (1) Or that cows produce more than three times the amount of greenhouse gases than it takes to produce the same amount of plant-based milk? (2)
Let's face it: Dairy milk is not sustainable. Plus, it's not great for your health either. A Harvard University study found that replacing dairy with plant-based alternatives significantly reduces the risk of cardiovascular disease, coronary heart disease, and stroke. (3)
And if that wasn't bad enough, take a look at what our CEO Philip Lymbery has to say about the dairy industry and its connection to animal suffering and global deforestation.
So, if you want to do better by the planet, your health, and farmed animals, what are you supposed to mix with your morning cereal or dunk your Oreos in? (That's right, Oreos are plant-based too!) Thankfully, finding and transitioning to plant-based milks has never been easier than it is today—and it's only getting easier! We're celebrating World Plant Milk Day by sharing our list of 6 plant-based milks to help you kick dairy to the curb.
1. Almond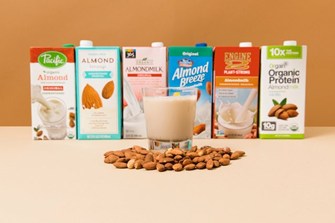 Image credit: Thrillist
Probably the most popular plant-based milk, you can find almond milk almost anywhere—even Ben & Jerry's uses it for their non-dairy ice cream (yum!). Add it to your coffee to give it a wonderfully subtle nutty flavor. The downside to almond milk is that almonds require a lot of water and are grown in already water-scarce southern California. So, while almond milk is certainly still better for animals than dairy, you may want to pick up a different plant-based milk if your extra earth-conscious!
2. Cashew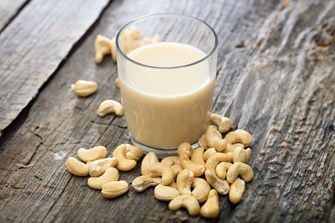 Image credit: MegUnProcessed
Need an indulgent, creamy milk for all your baking or cooking endeavors? Well, cashew milk is the way to go. It's so smooth that, before you know it, you'll be taking it home every week! Low in calories and fat, it's great for helping to stay in shape while also giving your taste buds a treat. But if you don't care about that (oops), check out cashew milk ice cream—just try not to eat it all in one sitting!
3. Coconut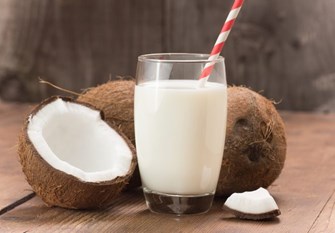 Image credit: ProHealth
If you want to go tropical this summer, we recommend picking up some coconut milk at the grocery store…no, not the coconut milk you put in curry! In the past few years, coconut milk has found its rightful place next to popular plant-based milks in the US. In fact, Starbucks introduced the plant-based milk into their line-up before they even offered almond milk! Chock full of healthy fats, coconut milk is the ideal plant-based milk to send you on your next mental vacation.
4. Oat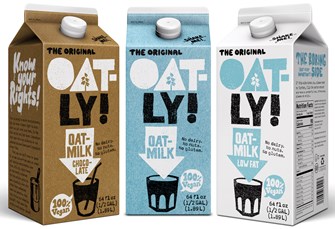 Image credit: TIME
Oat milk is one of the newest plant-based milks to hit the market. Though you may not think it sounds all that exciting, we think it's pretty amazing! Packed with fiber and devoid of some of the most common allergens like soy, tree nuts, gluten—and of course, dairy—Oatly is a fantastic choice for those that have to be cautious with their diets. Plus, their low-fat version is made with only oats, water, salt, vitamins, and minerals! Can't be simpler than that.
5. Soy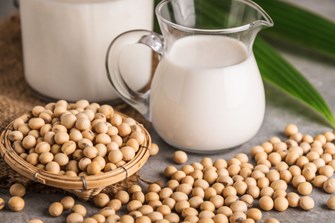 Image credit: Shutterstock
We like to think of soy milk as the original plant-based milk. It's been around for nearly as long as tofu, which goes back centuries! Hailed as a worthwhile replacement for cow's milk by more than 65% of the human population that's unable to digest lactose (the sugar found in dairy milk), it's recently gained major popularity as plant-based diets have become more and more prominent. Soy milk is also widely considered to be the most nutritious plant-based milk! (4)
6. Pea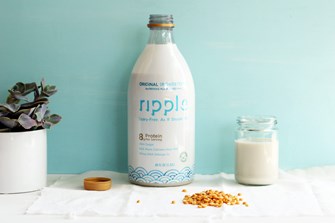 Image credit: Archerfriendly
Pea milk is AWESOME—there, we said it. Yes, we know it sounds gross, but we're all adults here, right? Made using yellow peas, which are highly sustainable and packed with protein, pea milk is slowly become a crowd favorite. It uses a fraction of the water it takes to grow other plant-based milks, but still manages to have that creamy, indulgent taste you want.
Well, there you have it! 6 plant-based milks to help you celebrate World Plant Milk Day. Don't know which one to choose? Try them all and when you find your favorite let us know using #EatPlantsForAChange and tagging @CompassionUSA on Twitter, Facebook, and Instagram!
---
References:
Mekonnen, M. M. & Hoekstra A. Y. (2012). A global assessment of the water footprint of farm animal products. Ecosystems, 15, 401-415. Doi: 10.1007/s10021-011-9517-8
Henderson, A & Unnasch, S. (2017). Life Cycle Assessment of Ripple Non-Dairy Milk. Retrieved from https://www.ripplefoods.com/pdf/LIfe%20Cycle%20Assessment%20of%20Non-Dairy%20Milk_01.pdf
Chen, M., Li, Y., Sun, Q., Pan, A., Manson, J. E., Rexrode, K.,...Hu, F. B. (2016). Dairy fat and risk of cardiovascular disease in 3 cohorts of US adults. The American Journal of Clinical Nutrition, 104(5), 1209-1217. https://doi.org/10.3945/ajcn.116.134460
Vanga, S. K. & Raghavan, V. (2018). How well do plant based alternatives fare nutritionally compared to cow's milk? Journal of Food Science and Technology, 55(1), 10-20. https://doi.org/10.1007/s13197-017-2915-y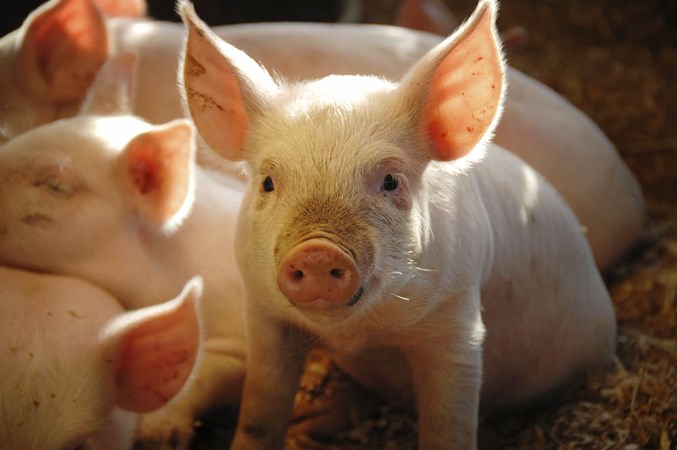 For just $15 a month you can help end the biggest cause of animal cruelty on the planet: factory farming.
Give Today