6/22/2018
Change is coming to a doorstep near you.
Blue Apron, one of the most popular meal kit services in the nation, just published a comprehensive animal welfare policy that will meaningfully improve the lives of chickens, egg-laying hens, pigs, and cows throughout the company's supply chain. Great news for those who want to incorporate higher welfare products into their everyday cooking!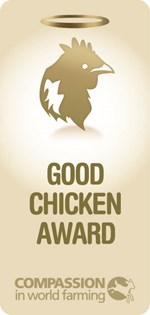 Most notably, Blue Apron becomes one of the first US-based companies to receive Compassion's Good Chicken Award, which it accepted at our annual Good Farm Animal Welfare Awards in Paris on June 21. The company has already transitioned 10% of its chicken supply chain to pasture-raised birds certified Global Animal Partnership (GAP) Step 4—a significant achievement, considering that less than 1% of chicken sold in the US is pasture-raised—and sources the rest from enhanced welfare operations that use 100% vegetarian feed and no antibiotics.
By 2023, Blue Apron plans to shift its entire chicken supply chain to birds with healthier genetics—away from breeds that grow too big, too fast—provide them with more room to roam, natural light, and important enrichments that allow chickens to express natural behaviors. They will report on their progress via third-party auditing throughout this critical transition.
In addition to stepping up for chickens, Blue Apron has outlined its current progress and even more ambitious animal welfare goals for the near future:
The company currently sources 100% of its fresh eggs from pasture-raised hens.
It currently sources 100% of its pork from operations that use group sow housing systems, or operations that do not use gestation crates. It plans to shift its entire supply to systems that are Certified Humane or GAP Step 1-certified by the end of 2019.
It currently sources 40% of its beef from pasture-raised, grass-fed cattle. It plans to increase that percentage to 50% or more by the end of 2019.
"Compassion in World Farming is proud to be working with Blue Apron to drive meaningful, positive change in the welfare of farmed animals," said Leah Garces, Executive Director of Compassion in World Farming. "Blue Apron's pledge demonstrates its genuine commitment to improving the lives of animals raised throughout its supply chain, most notably broiler chickens, and to report openly on its progress."
In recent years, we've seen a tremendous public demand for higher welfare products, and we've seen companies respond in kind—nearly 90 major food companies have committed to higher welfare standards for chickens, the most farmed animal in the US. Blue Apron's commitment means that Americans will now have direct access to these products in their own homes—progress for animals and humans alike!
We applaud Blue Apron for prioritizing animal welfare, and we're excited to see what additional positive change 2018 has in store for farmed animals!