8/23/2017
Cargill, the world's largest supplier of ground beef, just made a game-changing investment in "clean meat" startup Memphis Meats—a company with the innovative goal of producing meat without the need to raise animals.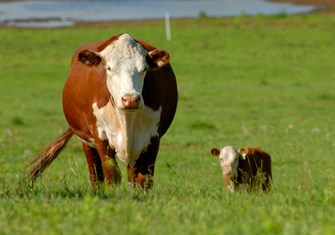 The clean meat movement harnesses the power of groundbreaking technologies to create cruelty-free meat products, potentially eliminating the need for factory farming. Instead of bolstering a cruel, unsustainable system that negatively impacts billions of lives, Memphis Meats and other pioneers in the clean meat space are growing real meat using animal cells.
"We're going to bring meat to the plate in a more sustainable, affordable and delicious way," explains Uma Valeti, M.D., co-founder and CEO of Memphis Meats. "We want the world to keep eating what it loves. However, the way conventional meat is produced today creates challenges for the environment, animal welfare and human health. These are problems that everyone wants to solve, and we can solve them by bringing this incredible group of partners under one tent."
Earlier this year, Cargill announced it was dropping the livestock feed operation side of its business, another telling sign that the food giant is interested in diversifying to burgeoning alternative markets.
"To see one of the largest agricultural companies investing in alternatives to traditional meat is one of the biggest signs to date that the tide is turning in the industry," says Leah Garces, US Executive Director at Compassion in World Farming. "Top food businesses are responding to consumer demand for food that's better for animals, humans, and the planet, and we commend Cargill for leading the way."
And Cargill isn't the only big name in the meat industry now funneling critical funds into plant based and clean meat:
In 2014, Pinnacle Foods—which owns Armour canned meats—bought meat alternative giant Gardein;
In 2015, former McDonald's CEO Don Thompson joined the board of plant-based protein innovator Beyond Meat; and
In 2016, meat giant Tyson invested in Beyond Meat, and Danone—Dannon's international parent company—bought plant-based dairy producer WhiteWave Foods.
Top food industry investors are also beginning to read the writing on the wall: major venture capital firms—including those run by Google, Bill Gates, and Richard Branson—are betting big bucks on companies like Hampton Creek, Impossible Foods, Memphis Meats, and many others working to transform our broken food system.
These headline-grabbing investments prove that plant-based is no longer just for vegans and vegetarians. Meatless is well and truly mainstream—and clean meat the next frontier.
Henry Ford once said that if he had asked his customers what they wanted, they would have requested a faster horse. Instead, he gave them a car. Thanks to changemakers like Memphis Meats and top companies willing to invest in clean meat and plant-based proteins, the car of the food industry is within sight—and this generation could see an end to factory farming.