"Evaluate Your Plate" Calculator Goes Beyond Carbon Footprint and Greenhouse Gases; Provides Alternative Recipes
Compassion in World Farming Calls on Major Food Companies to Update Supply Chains
DECATUR, GA – To date, most of the food sustainability conversation has been dominated by carbon footprint and greenhouse gas (GHG)-driven climate change. We have been educated to believe that switching from red meat to poultry and fish will have a positive impact on our planet. But if the goal is to pull ourselves back from the brink before it's too late, solely tackling GHG emissions is not enough. Fortunately, we can drive major change with what's on our plates by looking at the complete picture of what we eat.
Today, Compassion in World Farming USA (Compassion USA) is launching the Evaluate Your Plate calculator, a first-of-its-kind, interactive tool that takes a comprehensive look at what we eat and how it affects the world around us – beyond greenhouse gases to land and water use, nutrient pollution, biodiversity loss, and impact on animals.
"Limiting our measurement of environmental sustainability to greenhouse gases is not just imprecise, it's dangerous," said Jeff Doyle, US Head of Food Business, Compassion USA. "If people continue to simply swap beef for chicken and fish, as they have been led to believe is the environmentally-friendly choice, we will inadvertently accelerate the destruction of our planet. The goal of the Evaluate Your Plate calculator is to illustrate the positive impact of making more space on our plates for the foods we know are good for ourselves and our planet – fruits, vegetables, whole grains, and plant-based proteins. This is not an all or none proposition. Even small shifts in the food we eat daily or weekly can have a big impact on our air, lands, rivers, and everything that lives in them."
The Evaluate Your Plate calculator takes a hard look at the foods that comprise the bulk of our food system, including factory-farmed animal products. Users can compare the impact of common dishes or take a quick questionnaire on their diet; in both cases, they get an eco-impact report card across six sustainability metrics and alternative recipes for a healthy planet.
Here's an example of what a user might see: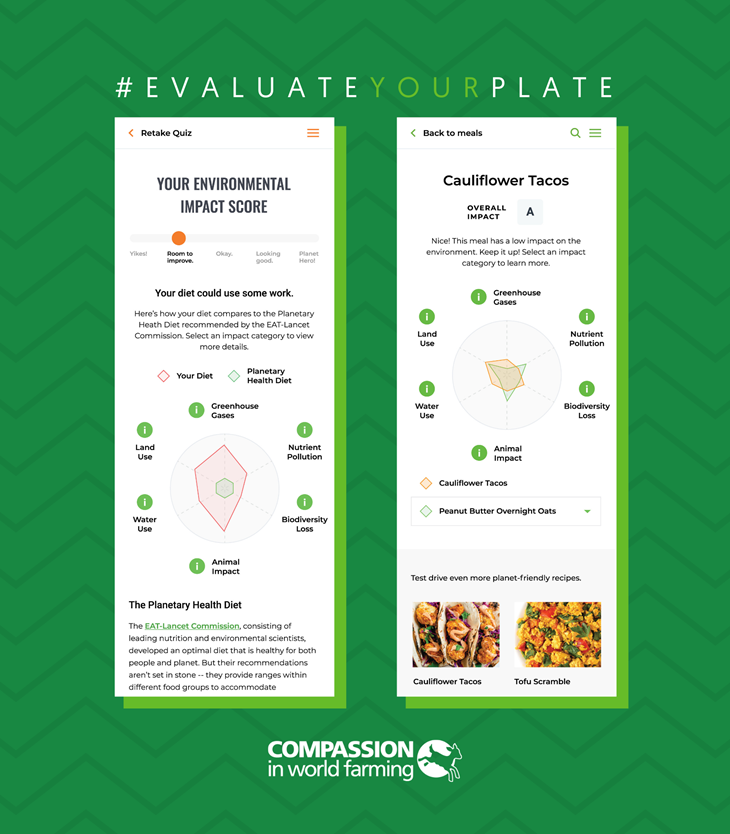 Compassion USA also released a fun, animated video today that brings the impact of eating meat, fish, and poultry to life. Watch the video here.
In addition to releasing the calculator so that individuals can make informed food decisions, Compassion USA is calling on all major food companies and international governing bodies to more holistically account for and address the impacts of food and begin shifting towards more plant-heavy diets that are affordable and accessible to all.
"Let's not put the burden of food system reform solely on individual consumers," added Doyle. "Food companies and governing bodies must be proactive before the damage is irreversible."
The methodology behind the calculator's creation involved evaluating a complex data set of environmental factors from the full life cycle of food – from farming to processing to transport – to fully account for the total impact on land, water, pollution, and biodiversity loss necessary to bring a particular food to retail.
Future applications of the calculator include offering tangible, meaningful solutions for major food companies looking to hit sustainability targets and rebalance protein portfolios. For example, the 200+ brands that have committed to higher welfare chicken could pair this crucial transition with a commitment to rebalance their protein supplies toward more plant-based foods—and in doing so, benefit billions of chickens and the planet simultaneously.
Follow the conversation on Twitter, Facebook, and Instagram at #EvaluateYourPlate.
###
For more information, please contact: Alison Spasser, (706) 834-7247, alison.spasser@ciwf.org
Compassion in World Farming USA is a team of strategic bridge builders working to end factory farming and repair the complex and far-reaching damage it inflicts, harnessing our technical expertise and the power of partnership to bring together an inclusive coalition of advocates, consumers, farmers, companies, and institutions. From farms to corporate boardrooms, newsfeeds to the halls of government, we work tirelessly on the ground to establish an innovative and resilient food system that is compassionate, fair, and regenerative for our planet and all its inhabitants.