Published 8/4/2015
Compass Group, the world's largest food company servicing universities, cooperate cafes, arenas, and more, has proudly issued a comprehensive record of policies, leadership, and renewed commitments on improving farm animal welfare within its supply chain.
Compassion in World Farming worked closely with Compass to develop benchmarks and goals for phasing out cruel, outdated farming practices. Today, Compass is a leader in farm animal welfare policies for food businesses.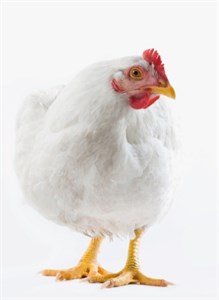 The report reveals Compass Group's commitment to work with suppliers to address fast growth rates and poor living conditions of chickens raised for meat, also known as broilers. Nearly all chickens in the US are raised in dirty, crowded barns with no access to the outdoors or natural light, and bred to grow so fast, so quickly they often cannot support their own weight. By working together, Compass Group is helping to further the goals of Compassion's Better Chicken Initiative.
The report also highlights Compass Group's demonstrated leadership in offering plant-based options. Specifics include their Be a Flexitarian campaign, Subsidiary Bon Appétit's vegetarian and vegan menu items, and their 2015 partnership with Hampton Creek Foods which has already resulted in eliminating 1.2 million eggs.
Compassion's US Director Leah Garces says, "This is the first time we've seen a food business tackle the all too often avoided issues of broiler chicken welfare and plant-based diet promotion, amongst other key issues, in one transparent policy. When a food giant like Compass Group commits to higher animal welfare, they pave the way for other companies to follow suit."
This news comes on the 10th Anniversary of Compass Group's first groundbreaking work to reduce antibiotics in their pork supply, switch to cage-free shelled eggs, and eliminate gestation crates for sows. Earlier this year, Compass Group committed to going 100% cage-free for shelled and liquid eggs by 2019. Subsidiary Bon Appétit has fast-tracked this goal, committing to cage-free liquid eggs by the end of 2015.
By 2020, Compass Group is committed to reducing red meat purchases by 30%, and doubling the volume of proteins from third-party animal welfare auditing systems. More praiseworthy progress for other farm animals including cows, pigs, and geese can be found here.