3/3/2016
Kroger, the biggest grocer in the US, has committed to a 100% cage-free egg policy.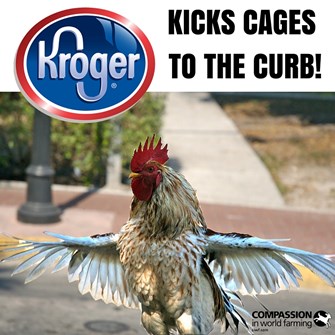 Last year, 15% of Kroger's eggs were cage-free. Today, Kroger recognizes its customers expect better for animals. They have announced plans to transition to a 100% cage-free egg supply by 2025, a timeline on par with other food retailers and restaurants.
Compassion in World Farming, along with several other animal protection organizations, has been in discussion with Kroger for over a year to improve animal welfare in their supply chains. Kroger's cage-free announcement is an encouraging first step towards a better world for farmed animals. 
When the largest grocer in the country commits to a 100% cage-free egg policy, the path to a cage-free future has never been clearer. With your continued support, the barren battery cage will soon be a relic of the past, and millions of laying hens will be able to stretch their wings, perch, and explore.
Kroger made their announcement just hours after a cage-free pledge from Delhaize America, owner of supermarkets Hannaford and Food Lion. In the past few weeks, supermarket giants like Trader Joe's, Safeway, and Stop & Shop also made commitments to phase out eggs from caged hens in their stores.
Thank you to the thousands of supporters advocating for chickens. Your voice as a consumer has raised the baseline standard for what's acceptable for farmed animals: a life without cages.
More work is still urgently needed in order for the few remaining food retailers to ban the sale of eggs from caged hens. You are a voice for animals! Your tax-deductible donation directly funds our Food Business Team's work to improve the lives of even more farmed animals.
Want to be the first to see more groundbreaking progress updates for animals like this? Sign up for our e-Alerts!