11/16/2015
By the end of next year, Taco Bell will switch to 100% cage-free eggs.
Because Taco Bell listened to its customers, the lives of half a million hens will be improved every year.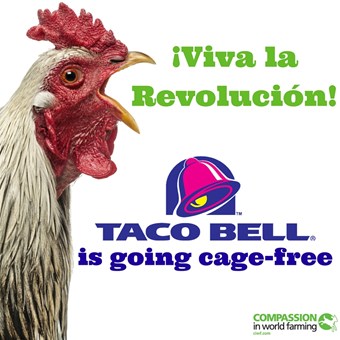 Each rung on the ladder (from cage-free, to free-range, to pasture-raised) marks significant progress for animal welfare. This first step of going cage-free raises the baseline standard of what's acceptable for animals.
Our US Food Business Manager Rachel Dreskin says, "We commend Taco Bell for going completely cage-free in a little over a year. This is the first significant announcement they have made regarding animal welfare in the US. Taco Bell caters to a diverse customer base, and this announcement demonstrates that treating animals with respect is a value that is shared across the entire population."
The announcement comes on the heels of McDonald's and Panera Bread, who we recently worked with to set timelines for phasing out battery cages. Just last week the Washington Post asked why Taco Bell was the last major fast food company to stay silent on the cage-free movement. 
Taco Bell has now proved if restaurants want to stay ahead in the market, treating animals with respect is not optional. 
This comes three weeks after Compassion in World Farming USA launched a change.org petition asking Taco Bell to be the next major company to go cage-free. Nearly 170,000 people signed the petition.