Published 5/8/2019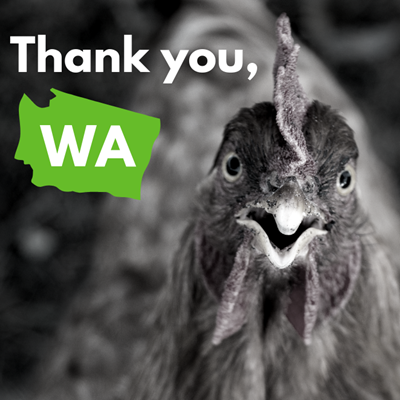 Animal advocates have reason to celebrate: Washington Governor Jay Inslee signed HB 2049 into law yesterday according to staff at the Governor's Office, securing massive and meaningful improvements in the lives of egg-laying hens!
The new law, modeled after recent successful legislation in Massachusetts and California, bans the use of cruel cage confinement for egg-laying hens, as well as the sale of eggs and egg products from out-of-state operations that do not meet the new cage-free standards.
With about 7 million egg-laying hens housed within Washington state borders, the impact of this legislation will be sweeping. And considering the state is now closing its doors to shell and liquid eggs from factory farms that continue to utilize cages, these protections will ripple to birds across the country in the years to come.
Having passed both the state House and Senate with a combined 92.5% of the vote, cage-free legislation is clearly having a moment, witnessing a surge of support in the legislature that's existed within the consumer market for years.
Compassion USA is grateful that Washington representatives have acted in accordance with the concerns of their constituents and the welfare of farmed animals, not the economic interests of the cruel factory farming industry.
We're greatly encouraged by this victory and extend our congratulations to the advocates and legislators who made this victory possible!
As Washington state signals its support to end cruel confinement, we're one step closer to bringing an end to factory farming.
Let's take a moment to celebrate this latest monumental progress today, and continue the fight tomorrow!