Published 10/12/2017
You probably know Nestlé best for their chocolates and candy. But did you know they own over 2,000 brands–making them the largest food and beverage company in the world?
That's good news for chickens, because many of those US brands under the Nestlé umbrella are now going to make big changes in the way chickens are raised.
Nestlé has just committed to improving the lives of chickens with better genetics, more space per bird, access to natural light, and enrichment such as perches.
This is a major step in the right direction towards a better world for animals. Nestlé's announcement will mean better lives for chickens across Nestlé's slate of US brands, including famous names like:

Nestlé follows other food leaders who have made similar commitments to improve the lives of chickens, like Compass Group, Aramark, and Sodexo, the three largest food service companies in the world; popular restaurant chains like Subway, Chipotle, Panera, and TGI Fridays; and big-name brands like Campbell and Knorr. Like other companies, the policy will apply to 100% of chickens by 2024.
A whopping 95% of all farmed animals in America are chickens raised for meat. Chickens are consumed far more than any other farmed animal—and because of cruel factory farming practices, they suffer more, too.
Chickens are typically crowded into dimly-lit sheds, and have been bred to grow so large, so quickly, they often struggle to support their own body weight.
Fortunately, we are working closely with food leaders like Nestlé to make meaningful changes for farmed animals, starting with a better breed of chicken whose genetics do not inherently cause suffering.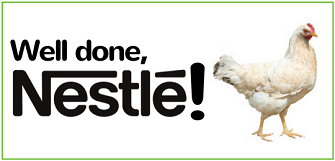 ---
Want to help even more farmed animals? Consider becoming a monthly donor to support our  work with food businesses, and efforts to end factory farming.
You can also sign up for action alerts to help animals when urgently needed.