Published 5/17/2017
Boston Market joins elite group in committing to animal welfare certification for chickens
GOLDEN, Colo. – May 17, 2017 – Today, fast-casual, rotisserie chicken restaurant chain Boston Market® announced its commitment to fully transition its chicken to standards outlined by the Global Animal Partnership (GAP), a leading animal welfare certification. They join other elite food business leaders, including Quizno's and Compass Group, both of which have pledged to meet GAP requirements in full.
"By 2024, our intent is to source only chickens that are certified by the Global Animal Partnership (GAP) and processed via a multi-step, controlled-atmosphere processing system that's widely considered to be the most comprehensive and highest level of animal welfare standards," said George Michel, Chief Executive Officer of Boston Market, also known as 'The Big Chicken.'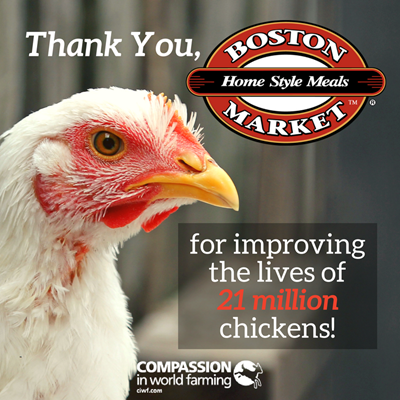 Boston Market's new policy follows similar commitments from major restaurants across the country aligning with key aspects of GAP—namely, breeds with higher welfare outcomes, more space, enriched environments, and more humane slaughter. Companies that have committed to better chicken include Burger King, Red Robin, Starbucks, Noodles & Company, and Jack in the Box.
"Boston Market is demonstrating forward thinking in its commitment to full GAP certification, which will improve the lives of 21 million chickens in their supply chain every year," said Leah Garces, USA Executive Director of Compassion in World Farming. "With so many companies committing to a better way, there's no turning this tidal wave around. Change is coming for chickens in America."
Subway, the largest fast food chain in the country, also recently committed to improve the lives of broiler chickens, a watershed moment that has sent shockwaves through the industry.
"We are committed to ensuring a high level of animal welfare, and are working jointly with our suppliers to achieve a set of ambitious animal welfare goals," said Daryl Still, Vice President of Supply Chain for Boston Market. "We believe that setting animal welfare goals is the right thing to do for our guests, and we take our responsibilities and leadership position with respect to this issue seriously. We look forward to sharing our progress with our guests as we continue this journey with our vendors and other stakeholders."
Despite the recent wave of corporate commitments, other high-profile companies—such as McDonalds, Chick-fil-A, and Wendy's—have yet to make policy changes regarding broiler chicken welfare.