Published 3/13/2017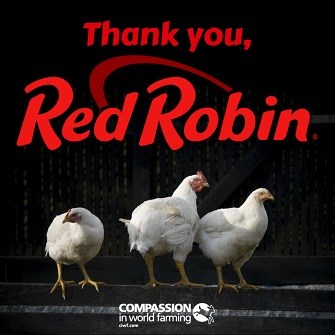 Red Robin has just become the latest restaurant chain to commit to improving the lives of broiler chickens!
Compassion in World Farming is proud to have worked with Red Robin, and we applaud Red Robin for their announcement today.
Red Robin will align their standards with those established by Global Animal Partnership (GAP), a third party animal welfare rating system with specific criteria for higher welfare for broiler chickens, and will require their suppliers to participate in third party audits to ensure compliance.
Red Robin will implement the following changes by 2024:
Source only chicken breeds that are approved by Global Animal Partnership (GAP) as having higher welfare outcomes;
Source only chickens that are given improved space allocations, per GAP's standards;
Ensure all chickens sourced have an improved environment, including litter, lighting and enrichment, per GAP's standards; and
Source only chickens that are more humanely processed, through a multi-step, controlled-atmosphere system.
This means chickens will have healthier genetics and better living conditions like more space and enrichment to encourage natural behaviors.
Red Robin's announcement follows other major food industry players in recently switching to better chicken, including Panera, Chipotle, Noodles & Company, and TGI Fridays.
Thank you, Red Robin, for raising the bar for broiler chickens.