Published 2/27/2017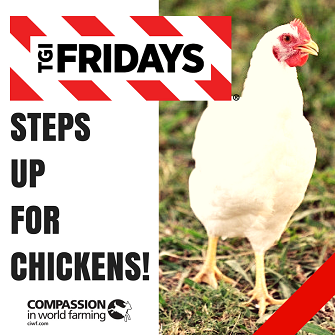 TGI Fridays has just become the first family dining restaurant chain to announce a commitment to better chicken!
After working with TGI Fridays on the details of their commitment, Compassion in World Farming applauds TGI Fridays for their decision to improve the lives of chickens. 
This means an independent, third-party auditor will ensure all chickens have healthier genetics and better living conditions like more space and enrichment.
TGI Fridays will implement the following changes by 2024:
Source only chicken breeds that are approved by Global Animal Partnership (GAP) as having higher welfare outcomes;
Source only chickens that are given improved space allocations, per GAP's standards;
Ensure all chickens sourced have an improved environment, including litter, lighting and enrichment, per GAP's standards; and
Source only chickens that are more humanely processed, through a multi-step, controlled-atmosphere system.
As revealed in our most recent video, factory farming is not only bad for chickens, but for consumers as well. Poor genetics and living conditions have created new muscular disorders in chickens causing higher fat and less protein content, as well as animal pain and suffering. 
Today's news of a switch to better chicken follows similar announcements from major food businesses recently including Panera, Chipotle, and Noodles & Company.
The moment has arrived for chickens, as the restaurant industry begins to step up for higher animal welfare and transparency for consumers. We look forward to a brighter future for chickens.