Published 1/8/2015
Two US senators are asking the United States Department of Agriculture (USDA) to update its labeling policy to ensure animal welfare claims are accurate. You can read the full letter in PDF form.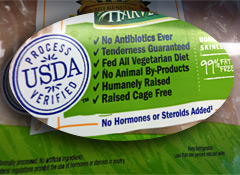 As an extension of our efforts with the USDA, we reached out to legislators across the country to be sure they saw our video with factory farmer Craig Watts, who revealed consumers were being hoodwinked, farmers were being taken advantage of, and chickens were suffering. We are happy to report that Senators Cory Booker (D-N.J.) and Dianne Feinstein (D-Calif.) share our concern over the issue of misleading labeling of poultry and other meat products. We raised concerns specifically over the USDA's Processed Verified Program in our video, and Capitol Hill is also flagging this as an area for concern.
Today, Senators Booker and Feinstein sent a letter to the head of the USDA, Secretary Tom Vilsack, requesting an update to the Food Safety and Inspection Service's (FSIS) labeling policy to establish strong, uniform standards for labels like "humanely raised" and "cage-free."
According to the US Senate Press Release, "The senators expressed concern that unclear definitions and the lack of an evidentiary requirement are leading FSIS to approve 'false and misleading labels' for these products. They also raise concerns that companies and producers with independently verified production practices are at a competitive disadvantage."
The letter is a clear, strong request to stop misleading consumers, and provide meaningful food labels. Here is an excerpt:
We write today to express our serious concern that the Food Safety and Inspection Service (FSIS) is approving false and misleading labels with animal welfare claims for meat and poultry products, such as "humanely raised" or "cage free." ... As you are aware, it is a violation of the Federal Meat Inspection Act and Poultry Products Inspection Act to label a product in a manner that is misleading or false.... It is our view that claims like "humanely raised" should only be approved by FSIS, or verified through the Process Verified Program, when there is evidence that animal welfare standards set by an independent third party, and which significantly exceed standard industry practice, are being met.