What do fish labels really mean?
Every day farmed and wild-caught fish are treated (and killed) in cruel ways. Hidden far from the public eye, fish suffer immensely on factory farms and when caught in the wild.
When on the lookout for higher welfare fish in supermarkets and restaurants, many people turn to the five largest certification labeling schemes for guidance:
However, Compassion in World Farming investigated the welfare standards of these certifications and exposed a shocking truth: fish certified by these labels may suffer in many ways. Many live miserable lives in overcrowded tanks and cages. Others endure prolonged and painful deaths. Practices allowed by some of these certifications include:
Starving fish for up to 14 days
Overcrowding fish in tanks or sea cages.
Inflicting a slow, painful death without adequate stunning
Shooting wild seals and harming dolphins.
Like other animals, fish are emotional, complex beings. They can suffer; they can feel pain. Yet they suffer in silence by the billions.
Without a voice of their own, they need us to speak up on their behalf. These certifications tend to focus on the sustainability of fish stocks and the environment, which is important work. But they could also protect fish welfare.
Currently, some certifications have little or no welfare protections in place. They must do more for the fish they certify. We analyzed and compared the different certifications' welfare standards against eight key criteria – such as starving the fish, killing wildlife and allowing fish to suffer slow, painful deaths – and determined where improvements are desperately needed. See our table below to find out more about the level of welfare protection provided by each certification.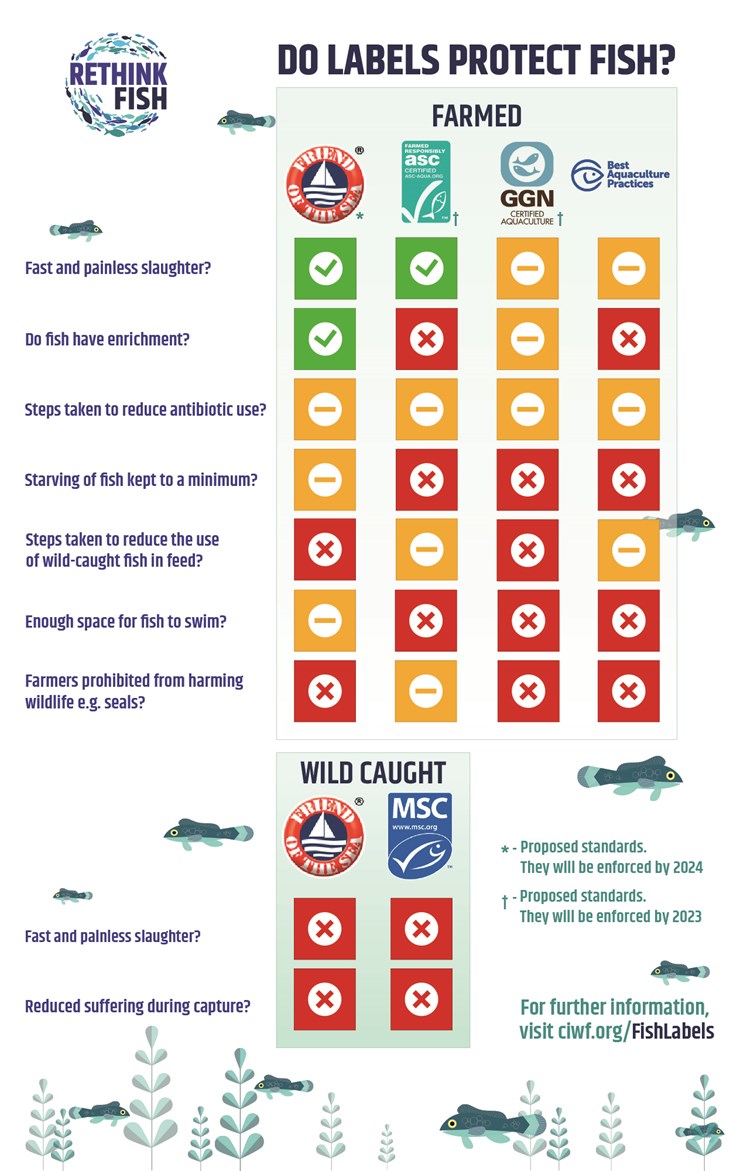 What does each label permit?
The standards for each criterion vary across each certification program. Click on the boxes to find out what each label actually permits.