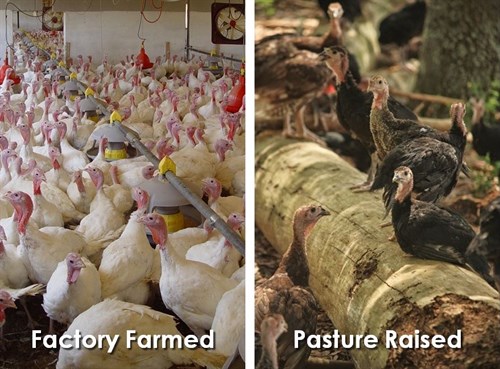 Americans increasingly want to know where their food comes from and that farmed animals are treated humanely. There has been a lot of chatter and even lawsuits recently about how trustworthy our food labels are, leaving many of us feeling confused and disillusioned. With Thanksgiving on the horizon, we're setting the record straight on what information you can rely on when choosing your holiday menu.
The Label Lies
In 2014, the notorious turkey brand Butterball, the largest turkey producer in the US, was granted the American Humane Certified label. However, this label offers little meaning, as its requirements mirror conventional factory farm practices.
Turkeys have been bred to grow so large they can no longer reproduce naturally. They also often have swollen feet and joints from supporting their unnaturally large weight. They are raised in barren barns with ammonia-filled air, and they have their breaks trimmed and toes clipped without pain relievers to avoid injuring each other in the overcrowded conditions.
Phrases that are commonly seen on packaging, such as "all-natural" and "hormone-free," have no meaning for how the animals were raised. While stronger animal welfare labeling laws are still needed, there are third-party independent labels that verify meaningful standards.
Common advice is to do your research on food suppliers or, even better, visit the farm where your food is raised. Luckily, CIWF has done that for you!
Trustworthy Labels
Labels from independent, third-party certifiers, like those listed below, ensure you get higher animal welfare.

Animal Welfare Approved (AWA)
AWA audits and certifies independent family farms to ensure animals are raised under strict welfare standards. 
Where to Buy

Certified Humane
Humane Farm Animal Care's "Certified Humane" label certifies farms with standards set by a scientific committee to help ensure animal welfare from birth to slaughter. 
Where to Buy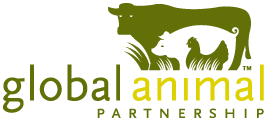 Global Animal Partnership (GAP)
GAP, the animal welfare label found at Whole Foods, offers a 5 step rating system for farms. 
Where to Buy

Regenerative Organic Certified (ROC)
The ROC program encompasses some of the most robust standards for animal welfare, farmer and worker fairness, soil health, and regenerative organic farming into a clear and comprehensive label for food, textiles, and personal care products. Turkeys raised in the ROC program must have continuous access to pasture. Indoor areas must have natural light and enrichments, and only breeds that thrive on pasture are allowed.
For a deeper look at meat labels and what each one certifies, check out CIWF's Learn the Labels.
Straight From the Farm
The benefit of purchasing directly from a farm is knowing precisely where your food comes from. Visiting a farm in person is ideal, but you can also visit farms' websites to get an idea of how their birds are raised from their photos and descriptions of the conditions and practices on the farm. Just be sure such claims are verified by an independent label, like those above!
White Oak Pastures
White Oak Pastures raises its heritage American Standard Bronze turkeys on unconfined pastures, free to scratch, peck, and dust bathe all day. At night, the turkeys can choose to go into a safely guarded mobile house to perch. Transport to slaughter is not an issue, because the farm has a USDA-inspected facility onsite — one of very few in the country. Online ordering is available.
Ayrshire Farm
This Certified Humane farm raises organic turkeys on pasture with ample shelter for resting. This environment allows the birds to express their natural behaviors. The farm is located in Middleburg, VA, but you can also order online.
Good Shepherd Poultry Ranch
This farm raises a variety of heritage turkey breeds that naturally mate, have long, productive outdoor lifespans, and are slow-growing. Farm owner Frank Reese believes in animal welfare, environmental stewardship, and breed conservancy — bringing heritage poultry back from the brink of extinction. Good Shepherd Poultry Ranch is located in Lindsborg, KS, but you can also order online via Heritage Foods USA.
Patient Wait
Their slow-growing heritage turkeys are raised on pasture on their farm in Piedmont, South Carolina and certified by Animal Welfare Approved. Orders for their turkeys can be placed online.
A Word on Cost
We acknowledge that pastured-raised, higher-welfare meat can be more expensive. There is good reason for this, as the slow-growing breeds, healthy food, outdoor space, and shelter are more costly to the farmer than intensive factory farming. However, by eating less meat overall and opting for cheaper plant-based protein such as beans more often, your overall grocery bill doesn't have to change.
Check out some of these wallet-friendly side dishes for Thanksgiving, to help balance the cost of the meal! Just be mindful some may have animal products.
               Budget Side Dish Recipes, by Taste of Home
               Vegan Recipes of Thanksgiving, by EatingWell
               Affordable Thanksgiving Recipes, by Food and Wine
               Vegan Thanksgiving Dinner, by VegKitchen
It's also important to remember your dollar is your vote for what food companies decide to produce and sell. By choosing higher quality, higher welfare meat, you are letting food companies know that consumers want farm animals to be treated better.
The Turkey Alternative
We couldn't end this guide without suggesting a plant-based turkey alternative. These can be more budget-friendly, more sustainable, and more compassionate choices for your Thanksgiving meal. There are a variety of meat-free "turkey" options on the market that are available in most grocery store chains. In addition, there are dozens of homemade plant-based turkey recipes online.
Whichever option you choose, thank you for making an informed choice for a compassionate Thanksgiving this year!