Making strides toward a future free of factory farming starts with eliminating intensively farmed foods from our diets more every day. You may find yourself wondering- what actual IMPACT do my meals have on the environment? We suggest you take a minute to Evaluate Your Plate with us using our new sustainability calculator!
 Our calculator works two ways: you can "examine your eating" by taking a questionnaire that will tell you how your daily eating habits effect the environment. Or you can "evaluate your plate" to see how your favorite dishes and ingredients stack up to our six key pillars of sustainability.
This Pride month we are evaluating the plates of 3 LGBTQIA chefs! These meals will help us gage how  dishes made with animal products compare to the sustainability of plant-based foods. But never fear, if you see a dish you just have to try we're suggesting simple swaps that leave out the animal product and amp UP the flavor.
Antoni Porowski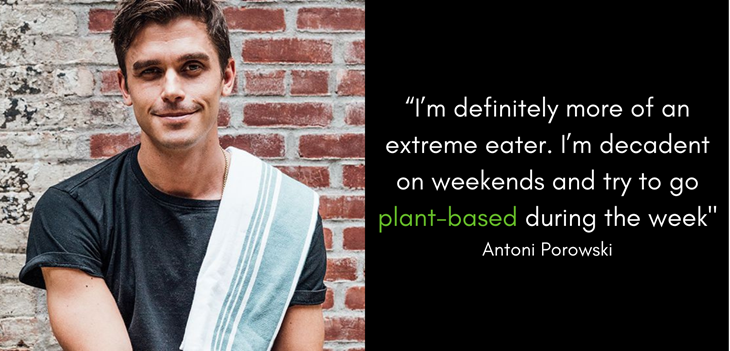 Everyone's favorite food and wine expert Antoni Porowski is an outspoken plant-based advocate that uses moderation to allow himself a diverse diet with moderate impact on our environment. The recipe we are looking at today is a Hanger steak with charred lime, fresh chilies and herbs.
Chef Melissa King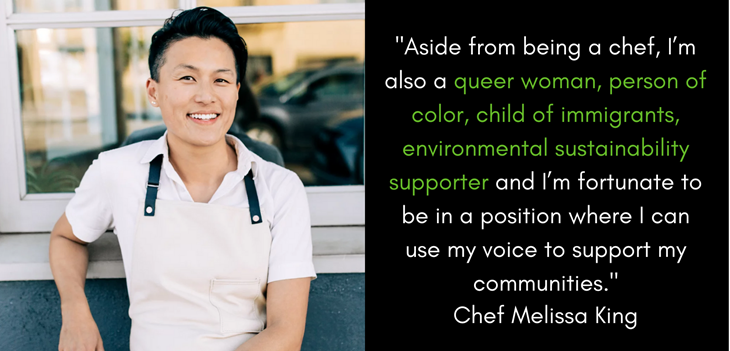 Top Chef alum and Top Chef All-star's winner Chef Melissa King. Chef Melissa chooses to use her spotlight to support brands and products that promote sustainability and bolster communities. The recipe we put the test are her Five-Spice Beer-Battered Fish Tacos with Jicama-Mango Slaw.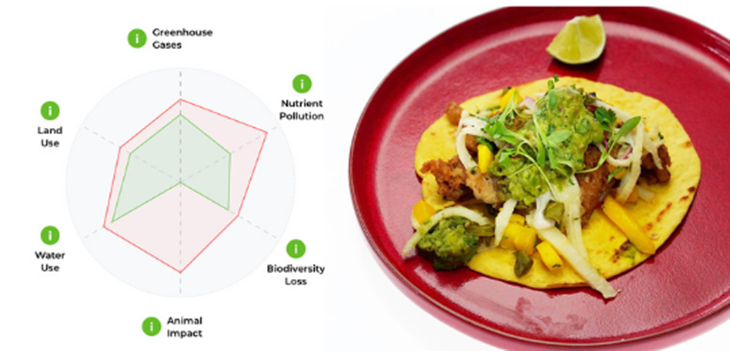 One of the rumors we hope to dispel when we #EatPlantsForAChange is that a move away from factory farming is a move toward fish and seafood as an equivalent alternative. As we can see on our radar graph (left), while land use and greenhouse gas effects are diminished animal impact and nutrient pollution is a large issue.
 We are already craving taco just looking at this dish and we have a plant- based alternative that will make this dish simply sustainable! Instead of fish try subbing in banana blossoms! Banana blossoms are the leafy bids left behind once the banana fruit is harvested. Once canned, these pods recreate the flakey consistency and briny flavor of any seafood recipe.
Chef Makini Howell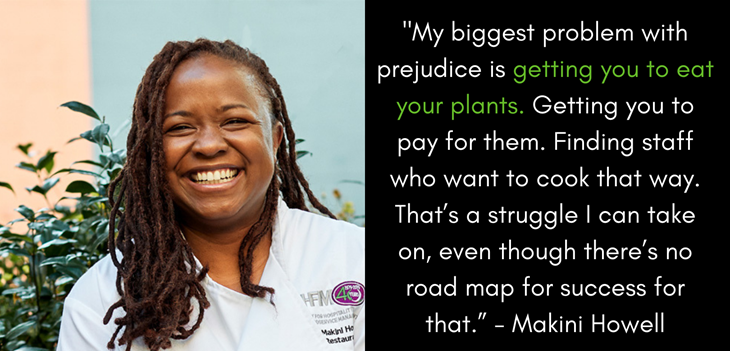 Chef Makini Howell has taken over the Seattle area, curating her plant-based Empire "Plum" which boasts a Bistro, Plum Chopped salad bar, Plum Burger food truck, dessert spot Sugar Plum AND private event services, Plum Catering. Chef Howell is providing the people of Seattle a plant-based choice for every meal. Chef Howell's recipe for Spicy Peach Tofu And Tempeh With Charred Purple Beans is the final plate we'll evaluate!
The graph clearly shows that plant-based choices like tofu, fruits, and vegetables minimize our food systems impact on the environment and eliminate animal impact all together! Not to mention the use of seasonal fruits like peaches to minimize our footprint and maximize sustainability. This recipe is a great treat for date night or ca easily be turned into a sheet pan recipe for a crowd!
Any steps toward a more plant-based diet takes us further away from a factory farmed future. These Chefs have given us incredible summertime recipes, that with a few simple swaps can turn into a compassionate feast! Moderation and recreation are key on the delicious journey to #EatPlantsForAChange and we are glad to be your co-pilots along the way.
Did we miss any of your favorite LGBTQIA chefs? Or need a simply swap to plant-ify your dinner? Share your questions with us in the Facebook Group, on Instagram, and on Twitter with the hashtag #EatPlantsForAChange and you might see your creations on our social media channels!