May is  Asian-American Pacific Islander Heritage Month, and #EatPlantsForAChange wants to celebrate the compassionate and delicious plant-based delicacies of theses distinct and beautiful cultures with a recipe Rolodex! We've found a treasure trove of delights from chefs and influencers—we definitely recommend hitting that follow button—who share recipes, stories, and their heritage all year round. These recipes will take your ordinary weeknight meal and turn it into an unforgettable culinary experience.
Food is force that connects communities globally, helping us understand one another better one forkful at a time. All over the US, kitchens are frying, steaming, and bubbling over with plant-based recipes that couple compassion with culture. Now, clear off your cutting board and fill up your plate from the bountiful spread before you—and don't forget to save compassion a seat at the table!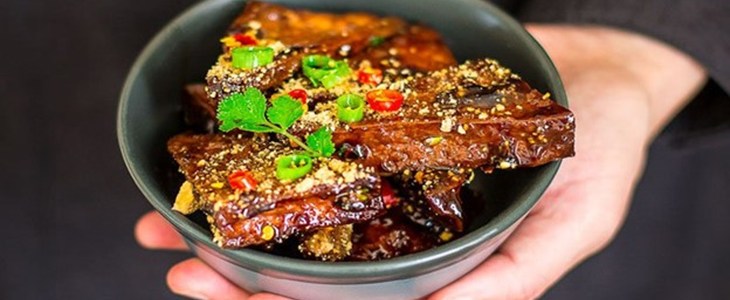 This braised tofu dish will have you wondering why you haven't made tofu this way your whole life. The tender, succulent, and spiced tofu meshes perfectly with still-crisp veggies on a bed of rice. Toni from Plant-Based on a Budget has made it her mission to provide peeps who #EatPlantsForAChange with recipes that are good for the environment, animals, and your pocketbook. Making this for a few friends? Impress them with your use of the word "braised" and an unfamiliar preparation of tofu—win/win!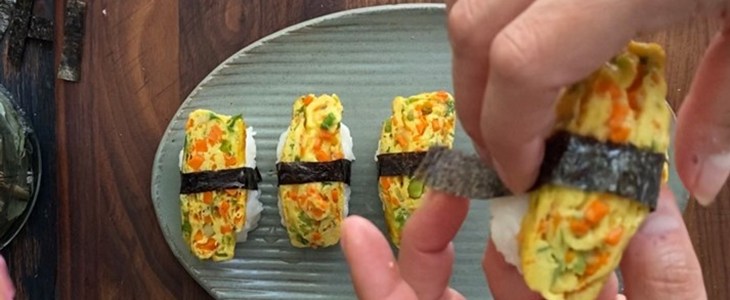 Finally a sushi item perfect for lunch, dinner…and breakfast? Just Egg takes center stage in this tamago nigiri recipe. Korean-American foodie, lawyer, and all around badass Joanne Molinaro uses this recipe and her blog to take us back to her memories of her hahlmuhnee (grandmother) at her law school graduation, and her mother making these delicious delicacies in her own childhood kitchen. With a plant-friendly twist and a focus on culture and progress, Molinaro really knows how to bring you to the dinner table and fill up your plate with more than just good eating.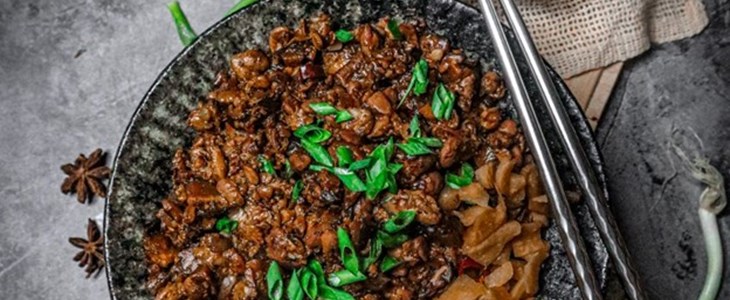 Now, unless you've been in a self-imposed social media detox, there is no way you don't know who Chez Jeorge is. The super-cute and talented-to –boot, professionally trained chef and TikTok sensation is making traditionally Tiawanese cuisine accessible and plant-first! The warm spices mixed with fresh herbs and rice truly make a filling and fulfilling dish—and he doesn't stop there: One of the original creators of the simple seitan trend that took social media by storm this year, Chez Jeorge is innovative, animated, and shaping the culinary landscape.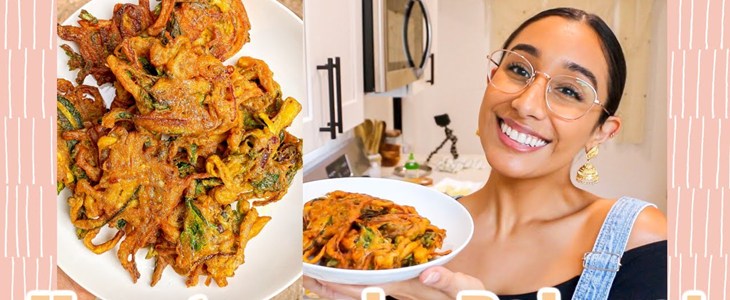 Nisha Basara's vegetable pakora recipe will have you head over heels for these golden-brown nuggets of goodness. Pakora is a deep-fried vegetable creation made with chickpea flour. This recipe is extremely customizable using whatever produce is in season, or use your favorite veggies as a go-to side dish all year round. Nisha reminds us that though you can source chickpea flour anywhere, she highly recommends supporting your local Indian grocer!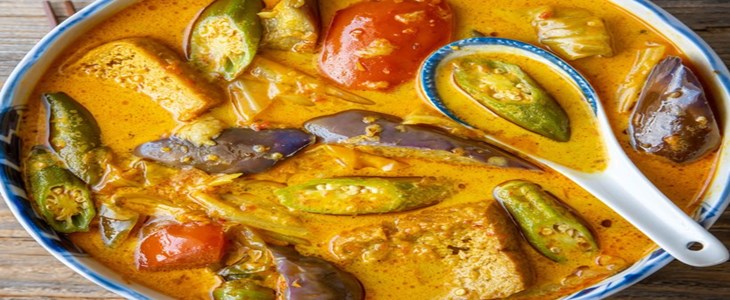 Woon Heng is dazzling us with this ode to spring and summer vegetables in this traditional vegetable curry. The bright sweetness of the vegetables matched with the warming heat of the spices makes this dish a hot summer night in a bowl. The secret to the depth of flavor in the recipe is to take the time to make your own chili paste! Now, this may sound intimidating, but Woon uses a food processor to assemble her ingredients to make this step fast and easy. Along with an assortment of your favorite veggies, this curry is fortified with tofu puffs that poach in the curry broth, giving them a tender and flavorful mouthfeel.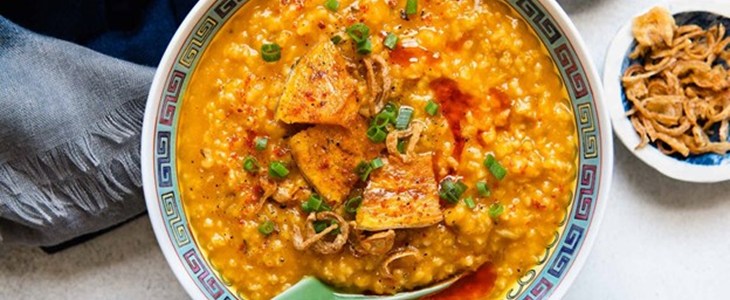 Millet is a gluten-free seed that cooks much like a grain  and is used in many recipes around the world. In Chinese cuisine in particular, millet is used in many porridge recipes, like this pumpkin millet version by Lisa Lin of Healthy Nibbles. Lisa made this recipe extremely accessible using canned pumpkin and easy-to-find spices! This recipe can be eaten for any meal of the day—just add your favorite plant-based protein to round out the dish. Lisa's tip for an over-the-top flavor experience? Sautee your aromatics! By lightly frying spices like cardamom pods and paprika, you release a more intense flavor profile and make your spice go further than you'd think.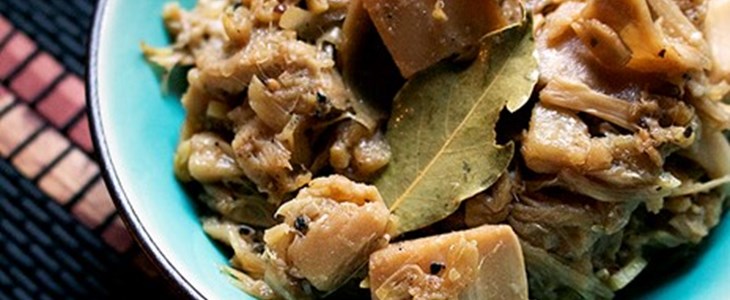 This marinated jackfruit dish recreates the salty-sweet flavors of the traditional Filipino lechon roast. RG Enriquez is a Filipina chef who has been trying to plant-ify this recipe for years, but could never find the right plant-based substitute—enter the jackfruit craze! Jackfruit's impressive ability to substitute shredded pork is essential to the texture of this recipe. Paksiw is a method of cooking using vinegar, salt, and garlic much in the style of another traditional Filipino dish, adobo.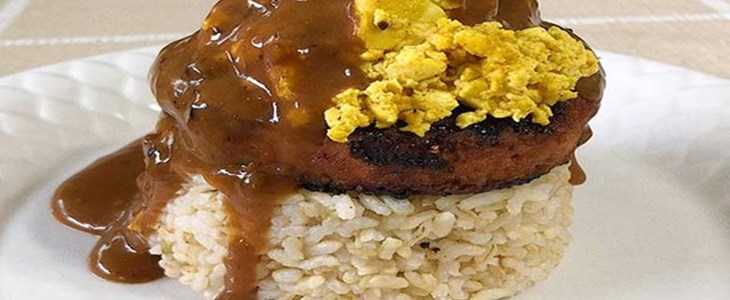 From Hawaii, Loco Moco is a traditional favorite appropriate for breakfast, lunch, and dinner (especially appropriate as a 3 am snack). This recipe is a plant-ified version from Chef Paul Onishi, who has not only been a part of the food and beverage industry for over thirty years, but he is also a long-time member of the Hawai'i Department of Education, creating culinary programs for at risk youth. His Moco Loco uses a tofu scramble, a rich mushroom gravy, and the plant-protein patty of your choice to recreate the infamous trio of flavors.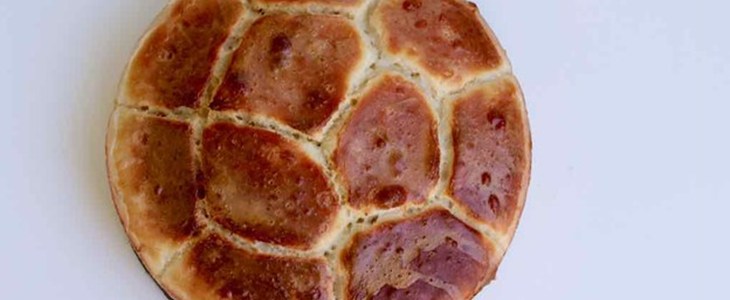 Pani Popo (Coconut Break) is a light and fluffy meal accompaniment from the Islands of Samoa. This pull-apart treat is the plant-based version of a rich and flavorful brioche. While this recipe calls for one egg beaten, you can substitute with your favorite egg replacement to make this bread fully plant-based! The secret to these rolls is the sprinkling of coconut milk they receive before hitting the oven. This blast of tropical flavor fills your whole house with the smell of warming coconut directly from your kitchen.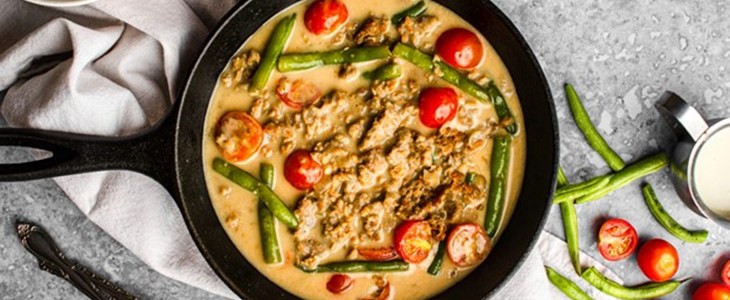 Tinaktak is one of Guam's most common rainy-day dishes. This hearty, plant-ified bowl consists of your favorite meatless grounds and a coconut milk broth. Keisha from the Floured Frame describes this dish as creamy, flavorful, and complex, with rich flavor profiles from Umami soy sauce, fresh crisp veggies, and a filling broth. Next time the sun decides to hide for the day, curl up with a bowl of Tinatak and enjoy the rain!
This collection of recipes is a varied, multi-faceted, and delicious view of the amazing AAPI cultures and creators that #EatPlantsForAChange. Getting into the kitchen and exploring culture through food can create connections that last far beyond the dinner table. This month, and every month, Compassion is honored to be a part of celebrating, respecting and uplifting Asian American and Pacific Islander cultures.
Did we miss one of your favorite recipes?! If you know any other plant-based cultural cuisines share them with us in the Facebook Group, on Instagram, and on Twitter with the hashtag #EatPlantsForAChange and you might see your creations on our social media channels!