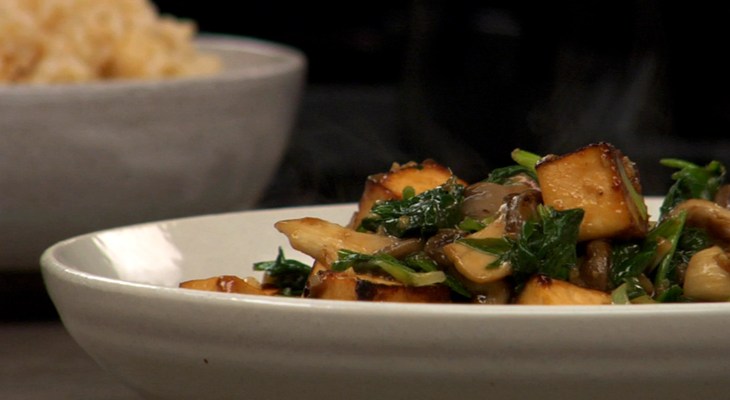 Stir-Fried Tofu, Oyster Mushrooms & Spinach
This recipe was originally created by and published on Rouxbe.
Makes 4 servings
Prep Time: 15 minutes
Active Time: 30 minutes
Ingredients:
For the Tofu:

 

 12 oz firm tofu

 2 tbsp soy sauce

 2 tbsp rice vinegar

 1 tbsp honey

 1 tbsp cornstarch

 2 tsp sesame oil

1/4 tsp red chili flakes

For the Stir Fry:

 

 8 oz oyster mushrooms

 1 tbsp ginger

 1 tbsp garlic (about 3 to 5 cloves)

 6 oz baby spinach

 1/3 cup green onions

1 to 3 tbsp peanut oil
Instructions:
To prepare the tofu, drain and cut the block into 1/2" -inch slices. Place the slices onto paper towels. Cover with more paper towels and press out any excess moisture. Cut the tofu into 1/2" -inch cubes.

In a medium-sized bowl or sealable plastic bag, combine the remaining ingredients, stirring evenly to combine (make sure the cornstarch has completely dissolved). Cover and let marinate in the refrigerator for at least 30 minutes or up to 4 hours.

Clean and trim the ends off of the mushrooms. Slice into 1" -inch pieces. Wash and spin dry the spinach. Mince the ginger and garlic. Slice the onions on the bias. Set aside.

To stir-fry the dish, line the ingredients up in the proper cooking order. Heat a wok over high heat. Once hot, cook the stir-fry according to the basic steps in the lesson. Keep in mind that vegetables should be added in the correct order so that they are all done at the same time.

Stir-fry the tofu in batches until golden brown on all sides — set aside. Stir-fry mushrooms — ginger and garlic — return tofu — add sauce — add spinach. Sprinkle with green onions. Feel free to add a touch more oil during the stir-frying process, if needed. Serve immediately.
Make this recipe? Take a photo, use #EatPlantsForAChange, tag us @CompassionUSA, and we just might share it! 
And don't forget to sign up to Eat plants. For a change. for more recipes like this one right to your inbox!