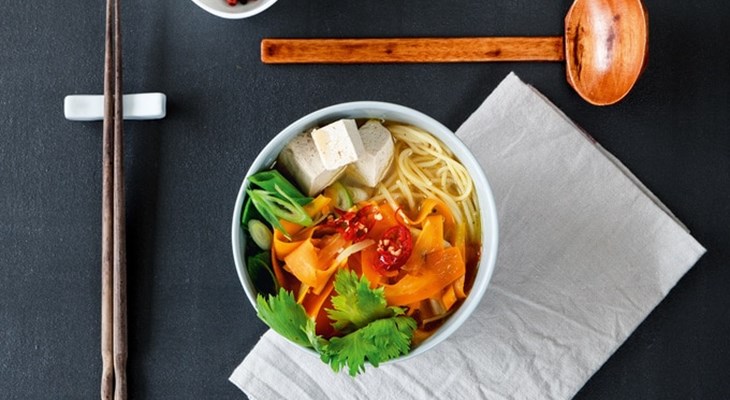 Spicy Miso Ramen
This recipe was originally created by Nadine Horn and Jörg Mayer and published on VegNews.
Makes 4 servings
Prep Time: 10 minutes
Ingredients:
8 cups vegetable broth

1 tablespoon soy sauce

2 teaspoons toasted sesame oil

10½ ounces egg-free ramen noodles

2 carrots, peeled and shaved into thin strips

7 ounces firm tofu, cut into ¾-inch cubes

2 scallions, thinly sliced

1 cup fresh bean sprouts


2 red jalapeños, finely chopped

½ teaspoon ground pink peppercorns

½ teaspoon black pepper

¼ cup yellow miso paste
Instructions:
In a large pot over high heat, bring broth, soy sauce, and sesame oil to a boil. Add noodles and cook for 5 minutes, until just tender. Remove noodles with tongs and divide among four serving bowls, leaving broth at a boil.
Add carrots, tofu, scallions, and bean sprouts to broth and boil for 3 minutes, until softened. Using a slotted spoon, remove from pot and divide among soup bowls.
Add jalapeños, peppercorns, and pepper to broth. Bring to a rapid boil. Remove from heat and stir in miso. Divide broth among soup bowls and serve immediately.
Make this recipe? Take a photo, use #EatPlantsForAChange, tag us @CompassionUSA, and we just might share it! 
And don't forget to sign up to Eat plants. For a change. for more recipes like this one right to your inbox!