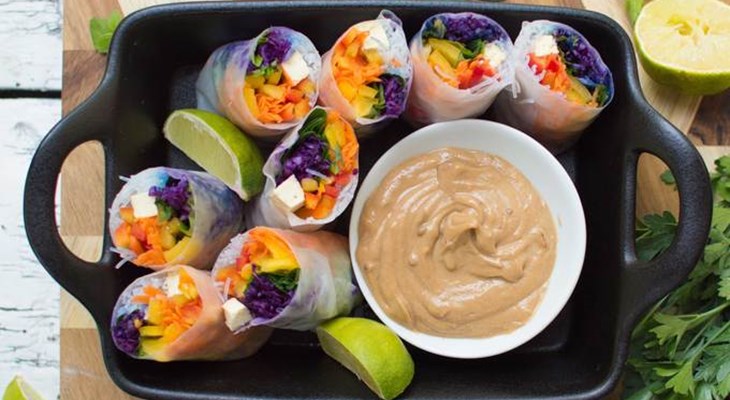 Rainbow Spring Rolls with Peanut Dipping Sauce
This recipe was originally created by Michelle Cehn and Toni Okamoto and published on VegNews.
Makes 2 servings
Ingredients:
For the Dipping Sauce:

 

2 tablespoons soy sauce

2 tablespoons lime juice

1 tablespoon rice vinegar

2 teaspoons sugar

½ teaspoon ground ginger

1 teaspoon garlic powder

¼ teaspoon red chili pepper flakes

½ cup creamy peanut butter

5 tablespoons water

For the Spring Rolls:

 

2 ounces uncooked rice vermicelli noodles


4 ounces (¼ of a 16-ounce block) extra-firm tofu, pressed and sliced into strips

5 round rice paper wrappers

½ red bell pepper, thinly sliced

1 cup shredded carrots

½ yellow bell pepper, thinly sliced

⅓ cup fresh mint leaves

⅓ cup fresh cilantro leaves

½ cup shredded purple cabbage
Instructions:
For the peanut dipping sauce, in a medium bowl, combine all ingredients except for water and whisk until blended. Add water 1 tablespoon at a time until dippable sauce consistency is achieved. Set aside.

For the spring rolls, cook noodles according to package directions. Drain and rinse noodles under cold water to prevent sticking, and place in a bowl of cold water until ready to use.

Clear a clean, flat work surface Fill a large bowl with warm water. Working one at a time, dip rice paper into water and submerge completely for about 5 seconds to soften. Don't leave in water too long or it will tear easily. Remove from water, while still firm and transfer to work surface.

In the center of 1 wrapper, lay horizontally a small amount of vermicelli noodles, tofu, red bell pepper slices, shredded carrots, yellow bell pepper slices, mint leaves, cilantro leaves, and shredded purple cabbage. Leave at least 1½ inches on all four sides bare for wrapping.

To wrap spring roll, fold two opposite sides of wrap over fillings to create closed ends of roll. Then, starting from vermicelli noodle end, use both hands to fold rice paper over noodles and begin to tightly roll rice paper and fillings into a tube-shaped spring roll, being careful not to tear rice paper. Repeat with remaining rice paper wrappers and fillings. Serve with peanut dipping sauce. 
Notes:
*  Make sure to only soak each rice paper as you wrap each spring roll. The paper should soften as you add ingredients.
Make this recipe? Take a photo, use #EatPlantsForAChange, tag us @CompassionUSA, and we just might share it! 
And don't forget to sign up to Eat Plants For a Change. for more recipes like this one right to your inbox!