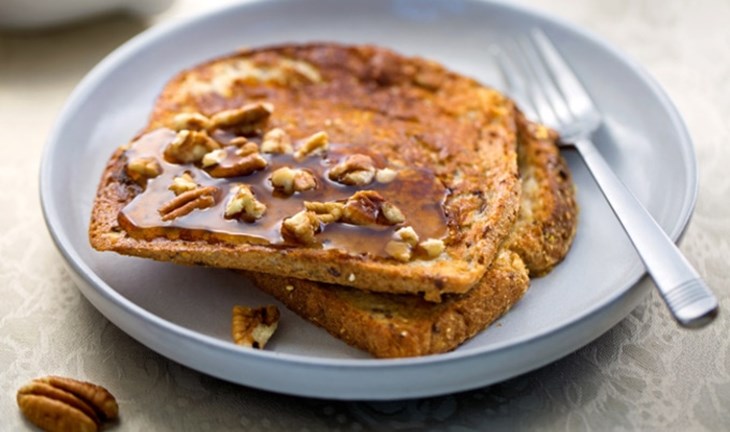 Maple-Pecan French Toast
This recipe was originally created by Robin Robertson and published on VegNews.
Makes 4 servings.
Ingredients:
¾ cup chopped toasted pecans
1-¼ cups soymilk or other dairy-free milk
4 ounces silken tofu, drained
1 teaspoon vanilla extract
¾ cup pure maple syrup
8 slices whole-grain or sprouted bread
Instructions:
Into a dry blender, place ¼ cup pecans and grind to a powder. Add soymilk, tofu, vanilla, and ¼ cup maple syrup and blend until smooth. Pour into a large shallow bowl and dip in bread, coating both sides evenly with the batter.

Preheat oven to 200 degrees. Heat a lightly oiled griddle or skillet over medium-high heat. Add prepared bread, and cook until browned on both sides. Keep cooked French toast warm in the oven while preparing remaining slices.

In a small saucepan, combine remaining ½ cup of maple syrup and remaining ½ cup pecans and heat until warm. Spoon over the French toast and serve at once.
Make this recipe? Take a photo, use #EatPlantsForAChange, tag us @CompassionUSA, and we just might share it on social media!
And don't forget to sign up to Eat plants. For a change. for more recipes like this one right to your inbox!