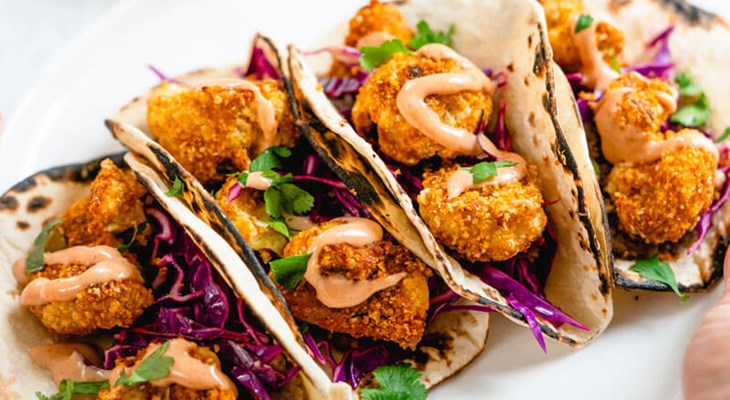 Cauliflower Tacos with Yum Yum Sauce
Makes 8 servings.
Prep time: 10 minutes
Cook time: 30 minutes
This recipe was originally created and published by A Couple Cooks.
Ingredients:
Instructions: 
Make the Crispy Breaded Cauliflower (about 40 minutes total; use the remaining time to complete the steps below.)
If using purchased refried beans, taste and if needed, mix with 1/2 teaspoon cumin and/or a pinch or two kosher salt. 
Thinly slice the cabbage, enough for 2 cups. Mix it with 2 tablespoons lime juice and a pinch or two of salt. Allow it to stand at room temperature until serving.
Make the Yum Yum Sauce.
Warm the tortillas, or char them by placing them on grates above an open gas flame on medium heat for a few seconds per side, flipping with tongs, until they are slightly blackened and warm.
Chop the cilantro for a garnish.
To serve, place refried beans in a tortilla, top with cabbage, breaded cauliflower, Yum Yum sauce, and cilantro. Serve with lime wedges to spritz prior to serving. (If you have leftover cauliflower, you can reheat them in a 350F oven for 10 minutes, flipping once.)
Make this recipe? Take a photo, use #EatPlantsForAChange, tag us @CompassionUSA, and we just might share it on social media!
And don't forget to sign up to Eat plants. For a change. for more recipes like this one right to your inbox!