11/30/2020
Leave the freezer-burned patties and mystery nuggets in the frozen food section: We're trolling the produce department for fish-friendly substitutes for all your seafood favorites and testing out a couple of simple swaps to keep our catch compassionate in our very own kitchen! From first slice to last bite, we wanted to personally recreate these recipes to inspire you to give them a try in your own home.
One thing that these recipes have in common is an emphasis on texture!  These plant-based options match—and in some cases better—the texture of their animal product counterparts. A better experience with compassion leading the way? Sounds seaworthy to us!
We're not just talking your run-of –the-mill protein substitutes. We are already familiar with every ingredient in these recipes without a chemical in sight—unless you count the serotonin boost I got from these banana blossom fish and chips. Take just one bite and you'll swear it's the actual dish and chips. (We really hope you like dad jokes).
Let us know how you think we did when you compare our creations with the recipe originals! We're not chefs, but we do love food and we hope that these recipes and our homemade results show you just how easy it is to give it a swim...we mean spin!
Tomato 'Tuna' Nigiri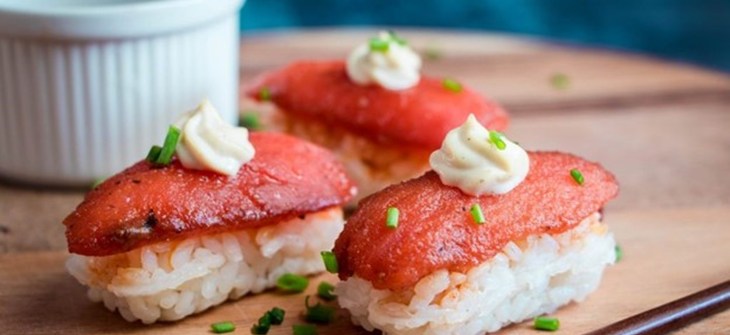 Kirsten's 'Tuna' nigiri recipe from The Tasty K was quick, user friendly, and filling! The best part is: You probably have many of these ingredients in your pantry right now. Blanched tomatoes are peeled and marinated in soy sauce (or your favorite coconut aminos) and nori snack sheets! The marine flavor of the nori really lends itself to the freshness of the tomato, recreating the refreshing taste of nigiri—compassionately. This recipe is also perfect for meal planning! —You all know how much we love a make-ahead recipe! Your tomato 'tuna' can sit in its marinade from 15 minutes to overnight! 
The secret to this nigiri? The miso paste! Miso is a fermented soy product that can be found in your local international supermarket or aisle, and it's worth a spot in your pantry. Miso's salty funk adds umami flavors into any dish.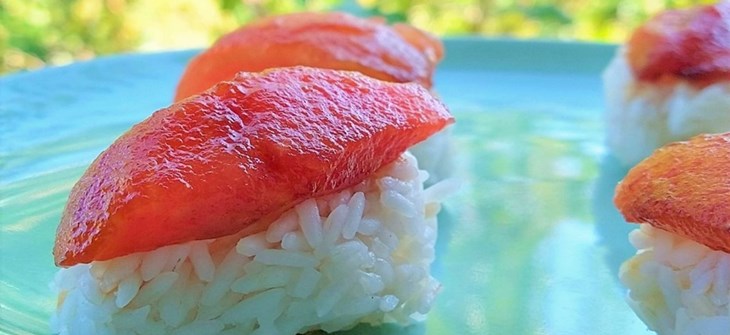 Our version (pictured above) is a dead ringer for our inspiration recipe! This recipe took about 45 minutes to make cook and prep time combines and is perfect for all skill levels. If you're new to the plant-based lifestyle and want to dip your toe in the water, we suggest you give this dish a try. Our pickiest taste testers gave this recipe an 8/10 and said it satisfied their sushi craving. Here's a tip: We used a beefsteak tomato for a more satisfying mouthfeel; we highly recommend your favorite tomato that's on the thick side. Try some yellow heirlooms for a compassionate take on yellowfin nigiri!
Banana Blossom

 

'

Fish

'

 

and

 

C

hips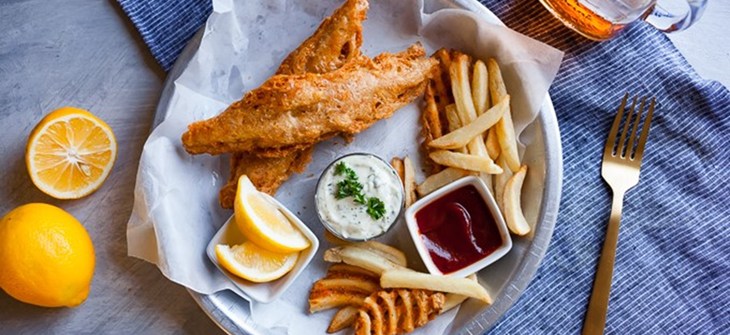 Megan's recipe for Vegan Fish and Chips from Carrots and Flowers is a teasingly simple recipe that's perfect for a weeknight dinner for the whole family. Banana blossoms are the flowering buds of the banana tree that typically get left behind, and they can be purchased fresh or, more easily, canned. The canned variety is better suited for this recipe since they're packed in brine, which has a tang that offers a refreshingly ocean flavor that reminds you of a seaside lunch. This must be the most visually identical recipe we've ever tested! Banana blossom fish and chips are truly nature's answer to fish substitutes: This succulent, flakey creation can impress even the biggest plant-based skeptics.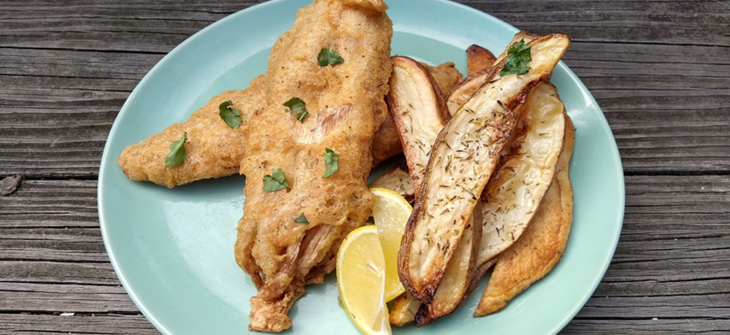 Our recreation (pictured above) had us wondering if we'd stumbled out of our kitchen and into a fish fry! The banana blossom was flaky and savory with a light and crispy batter to complete the effect. This dish could find a home at any socially-distanced seafood soiree, and it certainly wouldn't last long—ours didn't! And here's our tip for you: If you can get your hands on some Old Bay seasoning, add it to the mix. Adding this spice blend to both the marinade and the batter ensures a fishy familiar taste to tempt your tongue!
No more—or perhaps just a little less—do we have to head to the seafood counter to satisfy that itch for fishy flavors. Wandering through the produce aisles, we can do our part to ensure we protect our oceans without missing a meal. When you're searching for seafood substitutes, hoist your sails and head to the vegetable crisper. Remember: When you #EatPlantsForAChange, there's always a plant for that! 😉
We want to know what your catch of the day is! If you try a fishless dish, be sure to share it with us in the Facebook Group, on Instagram, and on Twitter with the hashtag #EatPlantsForAChange and you might see your creation on our social media channels.