11/3/2016
In a major milestone for farm animal welfare, global food service giants Compass Group and Aramark have committed to improving the lives of the millions of chickens in their supply chains by 2024.
In previous years, both Compass and Aramark announced their transition to 100 percent cage-free eggs and gestation crate-free pork. And today, two of the largest food service companies have taken a remarkable step towards creating better lives for broiler chickens, setting an industry precedent and paving the way for even greater change in the years to come.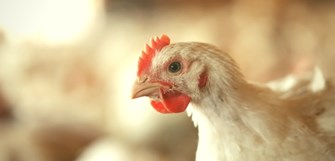 These new policies adopt critical benchmarks outlined by the 5-Step® Rating Global Animal Partnership (GAP)—creator of North America's most comprehensive farm animal welfare standards—and ensure that chickens across the country will benefit from better health and improved living conditions. Compass and Aramark have committed to:
Moving their entire supply chains towards healthier, slower-growing breeds of chicken, and away from the genetically-manipulated varieties on factory farms whose unnaturally fast growth leads to chronic discomfort, painful deformity, and traumatic injury.
Giving chickens more room to roam by establishing new stocking density standards (equal to or less than 6 lbs per square foot).
Providing enriched environments for chickens that include natural light, hay bales, and perches—enhancements that encourage natural behaviors and let birds be birds.
Making the slaughter process more humane by rendering chickens unconscious prior to shackling with Controlled or Low Atmosphere Stunning.
These historic commitments by the top names in food service serve as a powerful reminder of how much progress can be made when companies step up, prioritize animal welfare, and acknowledge growing consumer demand to do the right thing.
"These two commitments from Aramark and Compass mean that tens of millions of broilers will be better off every year," said Leah Garces, our US Executive Director. "These companies are responding to a growing demand from consumers that broiler chickens must be given a life worth living. We're excited to watch the market really shift in the months ahead to meet this demand. The writing is on the wall: this bad breed of bird has to go."
These announcements have the potential to shape the chicken industry for the better—and thanks to you, the biggest names in food business are starting to lead the charge. Today's developments are just the beginning: chickens comprise 95 percent of all farmed animals in the United States, and it will take substantive efforts from companies at every level and in every corner of the food industry to achieve the change that farm animals, consumers, and our food system need to thrive. But with your support—and with companies like Compass and Aramark leading the way—we can build a kinder world for chickens, one step at a time.