Published 9/21/2023
This week, the Big Apple was abuzz with leading environmental and climate activists at the city's annual Climate Week. The event, which runs alongside the United Nations General Assembly, is a network of panel sessions and presentations across New York City with thought leaders in academia, business, government, and NGOs centered on climate change mitigation and adaptation.  
During Climate Week, CIWF released a sobering white paper that concluded the United States must reduce meat consumption levels by a staggering 82% to align with levels sustainable for human and planetary health. The figure represents the first science-based meat reduction target that can be incorporated into both government and corporate climate and sustainability action plans.  
CIWF took to the streets of Manhattan calling out the increasingly dire need to address food and farming practices in the climate fight. On Tuesday, CIWF installed artwork in Washington Square Park conveying the urgent need for the nation to reduce its excessive meat and poultry consumption as part of the climate crisis.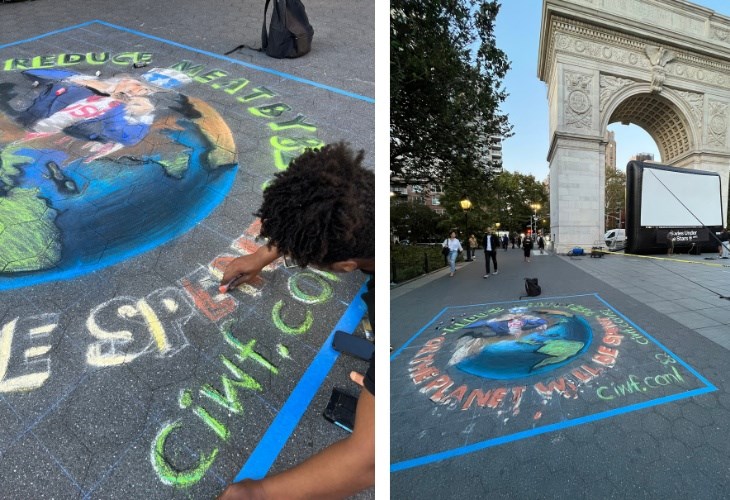 The artwork, designed by Benjamin Goetz in collaboration with CIWF and drawn by Jaron Newton, depicts Uncle Sam eating his way through a meat-filled Earth. The land adjacent to him is browned, representing deterioration wherever he goes. The vibrant green hue of the upper lettering represents the world in a successful scenario where the United States reduces meat consumption by 82%, whereas the brown and crumbling lower lettering represents an unsuccessful scenario, where the nation's meat consumption remains unabated and the boundaries of Earth's key factors—climate, biodiversity, land use, water, use, and nutrient cycling—are surpassed. 
"Just as many governments have enacted energy and fossil fuel reduction targets, the world's richest countries must commit to meat reduction targets, using a less and better approach, if the planet is to realistically remain below two degrees Celsius warming and avoid biodiversity collapse," said Allison Molinaro, U.S. Campaigns Manager for Compassion in World Farming. "Our report provides the first science-based meat and poultry reduction target for the U.S.—82% by 2050—that officials should incorporate into their climate and sustainability action plans and work toward through legislative and regulatory actions."   
The art installation was complimented by free plant-based and fungi-based food organized by END.IT coalition partner World Animal Protection (WAP), offering the public a (literal) taste of what a future without overreliance on meat looks like.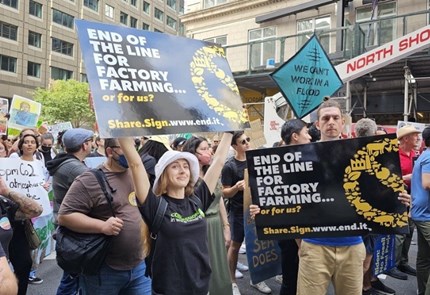 CIWF staff also attended the March to End Fossil Fuels as part of a contingent group specifically calling for a transition away from industrialized animal agriculture as part of national climate action. Animal agriculture accounts for between 10-20% of global greenhouse gas emissions according to the latest figures, making food and farming reform an integral part of climate change mitigation. 
Inside, CIWF co-hosted a public panel event, Food for 1.5: Healthy Diets for a Sustainable Future, to discuss how we can transition to more humane and environmentally sustainable food production to help keep global temperature rise below 1.5 degrees Celsius. The event complimented CIWF's continuing work inside the United Nations to create a global agreement to replace factory farming with regenerative and agroecological food production and a subsequent overall reduction in animal-sourced foods by 2030.
Tuesday's events mark the kickoff of a long-term CIWF campaign to reduce meat consumption nationwide by transitioning to plant-centered food production and smaller, higher-welfare animal systems. To learn more, visit our Food Policy for Planetary Health page.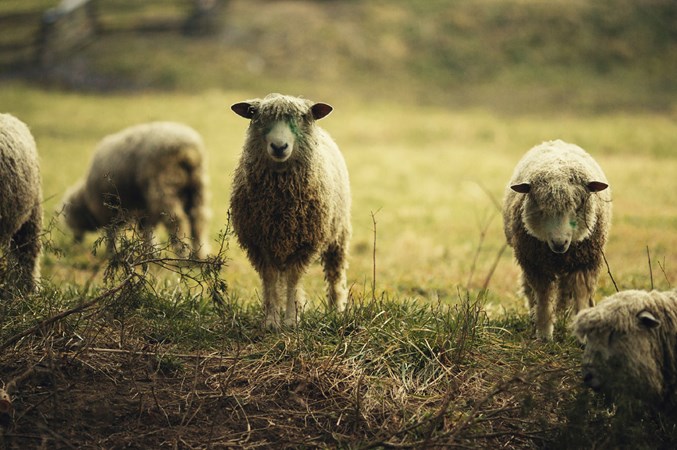 For just $15 a month you can help end the biggest cause of animal cruelty on the planet
Join us today