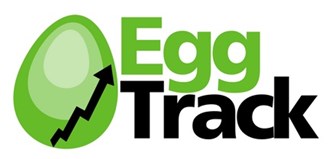 FOR PROGRESS AND TRANSPARENCY
Laying hen cages are widely regarded as one of the worst-of-the-worst factory farming practices, and the market has overwhelmingly united in the shift to 100% cage-free eggs. EggTrack is a tool to help achieve a cage-free future, together.
---
Foreword by Sodexo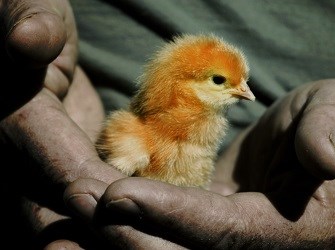 "We can only create meaningful change by working in partnership with others. Sodexo's collaboration with our stakeholders, including Compassion in World Farming, helps us to continuously improve, and in turn, encourages our industry to follow. We are pleased to introduce the EggTrack this year as it reinforces our belief that transparency and robust processes are highly valued. We hope the information here within will influence others to pursue the same path."
Judy Panayos
Sr Director, Sustainability
Sodexo
---
In recent years, many major food companies have committed to transition to 100% cage-free eggs in ten years or less. As an animal protection organization laser-focused on ending factory farming, Compassion USA's primary aim is to ensure that these commitments--which will impact the lives of millions of egg-laying hens across the country-- are successfully met on or ahead of schedule. That's why we created EggTrack, a first-of-its-kind tool to help consumers stay on top of company progress towards their 100% cage-free goals. EggTrack is designed to:
Ensure food businesses can and will stick to their cage-free egg commitments;
Encourage transparency in the marketplace; and
Provide assistance to food businesses during their transition to a 100% cage-free egg supply.
Cage-free egg progress is updated annually on the charts below.
---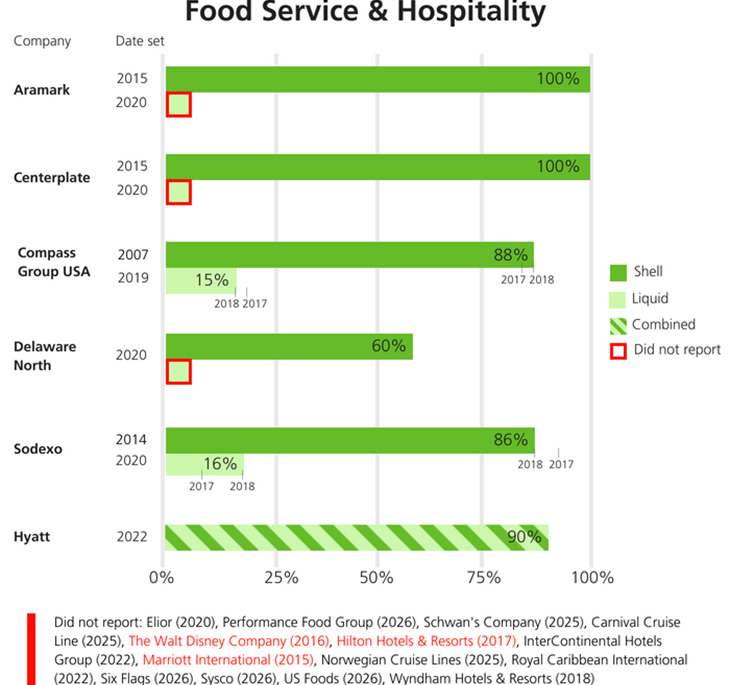 ---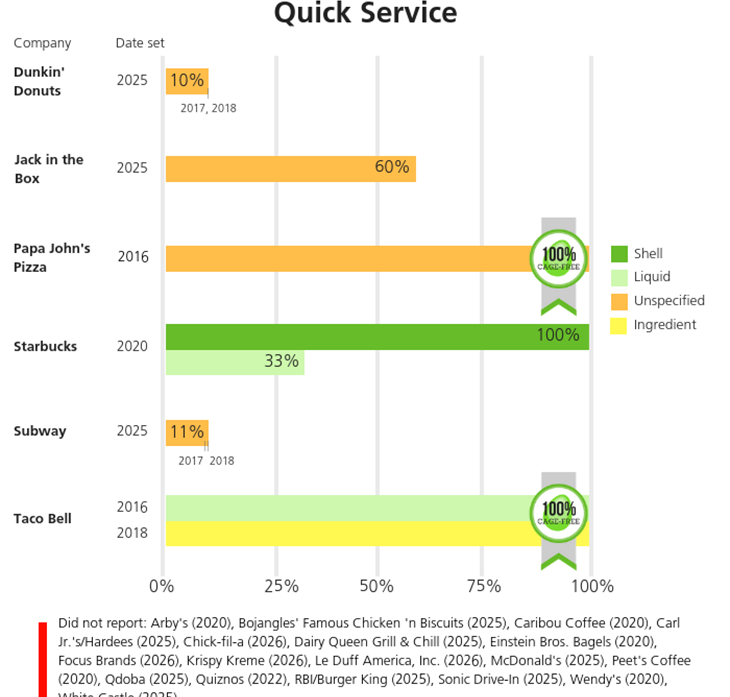 ---
---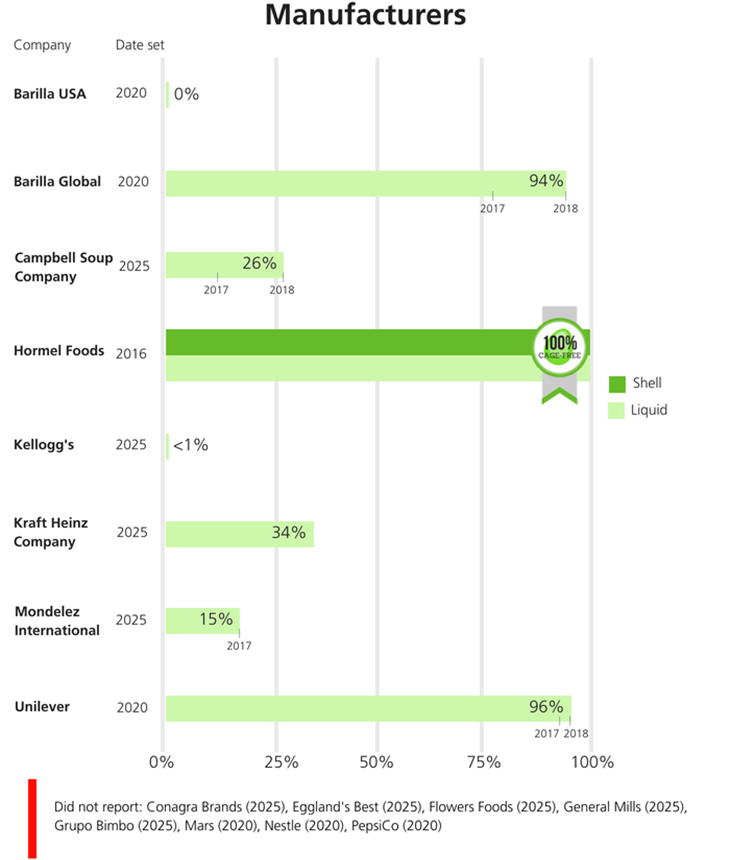 ---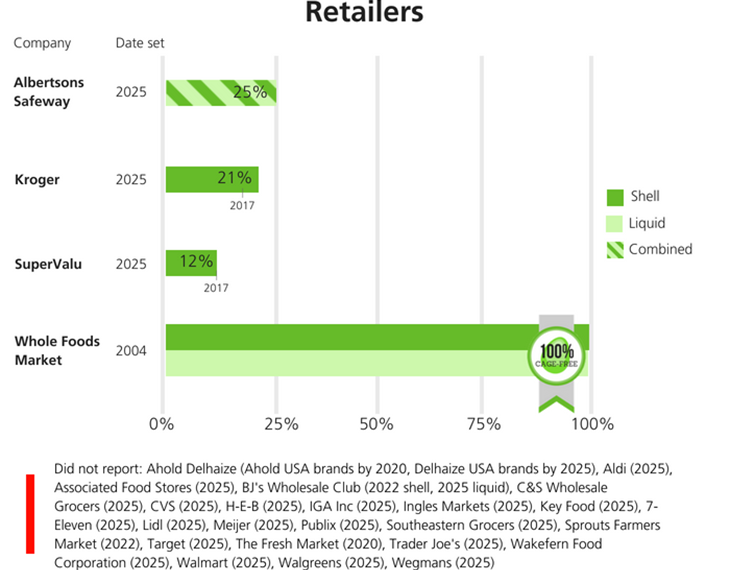 ---
CONSIDERATIONS AND EXCEPTIONS
The charts above are designed to display publicly-available information as clearly as possible. However, there are some case-by-case notes to consider. For example, some companies use only one egg type (ex: shell or liquid eggs) and, therefore, have only one associated progress bar.
Other companies do not clearly specify whether they are reporting on all egg categories used in their supply chains, or just on one type. Where it is unclear to which categories progress applies, progress is presented as "unspecified." We recommend that all companies make this distinction explicit in their public reporting and extend their commitments to cover all eggs in their supply chain, where this is not already the case.
A red progress bar signifies that a company has not yet reported progress for that egg product category.
A striped progress bar signifies that a company reports progress as a combination of egg categories that are cage-free. In this year's report this is limited to reporting on a combination of liquid and shell egg progress.
Other company-specific considerations are outlined below:
EggTrack aims to track progress against US cage-free commitments. Exceptions include some companies which currently report globally (Mondelez, Kellogg's, and Campbell Soup Company) or for their North American supply chain (Starbucks, Kraft Heinz, Hyatt, and Unilever).
Hyatt's striped progress bar indicates that its progress is publicly reported as a combination of both its liquid and shell egg efforts.
Dunkin Donuts reports it is 10% cage-free towards their 2025 goal, but it is only reporting on breakfast sandwiches. We encourage Dunkin Donuts to expand their reporting to represent entire egg categories, rather than a product-specific supply chain.
Starbucks reports cage-free egg progress for company-managed stores only. We encourage Starbucks to provide clarification in future updates on the extent to which their commitment applies to licensees and to report licensees' cage-free egg progress.
Barilla reports both its global and regional cage-free egg progress against its 2020 commitment in its 2018 CSR report. Barilla transparently reports 0% purchasing progress in the US, but details plans for transitioning its supply. These plans include a project for the reformulation of products containing eggs, which will bring about a phased reduction in the use of this ingredient. The remaining volumes will be sourced entirely from cage-free poultry farms over the course of 2019. We have included both Barilla's US and global progress in the report in order to align with our aim of tracking US-specific progress, while contextualizing Barilla's US reporting in its global efforts and progress to transition to a 100% cage-free egg supply chain.
Albertsons Safeway striped progress bar indicates that its progress is publicly reported as a combination of both its liquid and shell egg progress. Other than Whole Foods Market and BJ's, Albertson Safeway is the only other retailer that has clarified that its cage-free egg commitment extends to liquid eggs and is reporting progress against both egg categories.
While Trader Joe's was included in last year's report, its progress is excluded this year, as the relevant information was published in February 2016, more than two years prior to this year's EggTrack disclosure deadline of July 31, 2018. For publicly disclosed progress to be included in EggTrack, progress must have been updated within two years of the EggTrack disclosure deadline.
Although clarification was sought, Publix did not update its reporting to reflect the percentage of eggs sold that are cage-free, as opposed to the percentage of egg offerings that are cage-free. Because reporting on the percentage of offerings that are cage-free is not a meaningful representation of progress, we have removed Publix's progress from this year's report.
METHODS
Companies with a time-bound cage-free egg commitment were selected based on company size by revenue, egg footprint (both shelled and liquid eggs), and market influence.
Companies were asked to publicly disclose their cage-free egg percentages ahead of July 31, 2018. For progress to be included in the tracker, it must be publicly available on a company's website or other document including, but not limited to, an animal welfare policy, a CSR or progress report, or a press release.
A company receives the coveted 100% cage-free ribbon if they have achieved their goal of having all egg types used in their supply chain come from cage-free hens.
LOOKING FORWARD
The second annual EggTrack report has reinforced the urgent need for clarity from companies regarding the egg product categories covered by their cage-free commitments (e.g., shell, liquid, ingredient). Some commitments do not clearly disclose which egg product categories they impact, most notably in pledges from several retailers. We encourage companies to be fully transparent on the progress towards 100% cage-free on all types of eggs used by each business, as well as the target date for each egg type.
As the market continues to make the critical shift towards cage-free eggs, and as the demand for transparency continues to increase, we encourage companies to integrate annual progress reporting into their broader reporting procedures and disclose this information for all farm animal welfare commitments relevant to their business.
We will continue to follow up with the non-reporting companies to ensure we reach a 100% cage-free future and eliminate one of the worst-of-the-worst factory farm practices.
Companies interested in doing this work may reach out to our Food Business team for more information. We look forward to continuing to work together to improve the lives of millions of laying hens.
European EggTrack Report
Compassion In World Farming has published its first European EggTrack Report this year. Click here to read the 2018 European EggTrack Report.
RESOURCES
For food businesses:
For investors:
For the public:
FUND THE TRACKER
You can keep this tool running by making a contribution to Compassion in World Farming, the organization making sure food businesses can and will stick to their animal welfare commitments through transparent progress reports. Help fund EggTrack and Compassion's ongoing work to improve the lives of farm animals.