Four More States Allow Cage-Free Eggs to Be Purchased through WIC
Published 10/12/2023
As of October 1, four more states allow for the purchase of cage-free eggs through the Special Supplemental Nutrition Program for Women, Infants, and Children (WIC). This takes the total number of states allowing for these higher welfare food choices to thirty, up from five when Compassion began working on this campaign back in 2020.
Arizona, Idaho, Pennsylvania, and Oklahoma all recently updated their Approved Foods Lists to allow for the purchase of cage-free eggs, joining more than two dozen other state programs (including the country's three largest in California, Texas, and Florida) as well as Washington D.C. and Puerto Rico, bringing the total proportion of WIC participants who now have access to cage-free eggs to 70%.
State WIC agencies are responding to fast-approaching retailer deadlines to go 100% cage-free. CVS and Walgreens have already announced that they no longer sell eggs from caged hens. The majority of national retailers (including Target, Walmart, Albertsons, and H-E-B) have all committed to be completely cage-free by 2025 and we continue to track their progress towards their commitments through EggTrack.
The price difference between a carton of cage-free and conventional eggs has also come down in recent years as the size of the national-cage-free flock has grown and producers have taken advantage of economies of scale. The perception of cage-free eggs as a "specialty" product is diminishing as cage-free eggs increasingly become the norm. Nearly 40% of all US egg-laying hens now live cage-free, up from just 10% in 2016.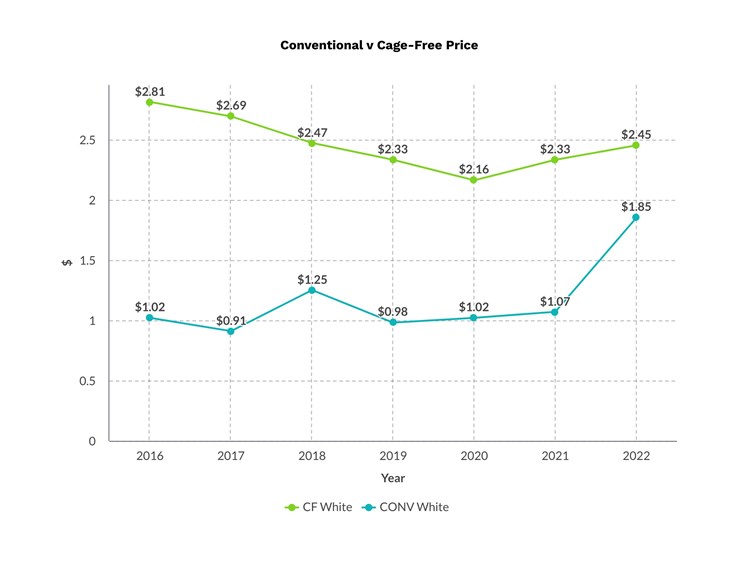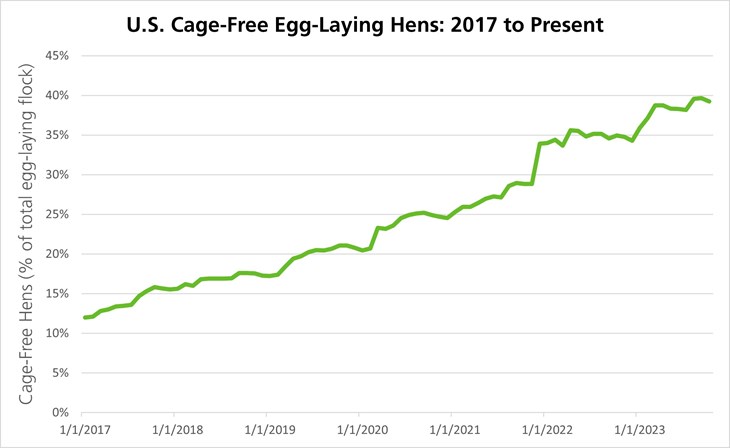 Interestingly, the way WIC agencies are approaching the cage-free egg imperative varies from state to state. Some states, such as Arizona, now allow for the purchase of eggs from any level of welfare system, whether it's cage-free, free-range, or organic. This helps to eliminate consumer confusion, improve participant experience, and with some evidence that organic eggs have nutritional advantages over conventional eggs, may even lead to improved health outcomes.
Other states, such as Oklahoma, now allow for the "least cost brand" of eggs to be purchased—a budget-conscious solution that will allow for cage-free eggs to be purchased if they are the only available option.
Whatever the solution, the remaining 20 states that do not currently allow for the purchase of cage-free eggs through WIC, will soon have to update their approved foods lists or their participants will no longer have access to this important source of nutrition.
According to a 2022 Harvard study, 80% of Americans would prefer to buy eggs from chickens that have not been kept in cages. Experts suggest that WIC participants' preferences generally reflect those of the country as a whole, suggesting there seems to be an opportunity to better serve the needs of the WIC community by allowing for the purchase of cage-free eggs in more states.
Only around 50% of families eligible for WIC actually participate in the program. The WIC community is striving to increase that number through better education about benefits and an improved shopper experience. While the conversation about participation is rightly focused on technological improvements and increasing resources for WIC agencies, the addition of cage-free eggs is at least in line with participation goals by increasing consumer choice, reducing uncertainty, and giving WIC participants access to the same higher welfare food choices available to the majority of consumers.