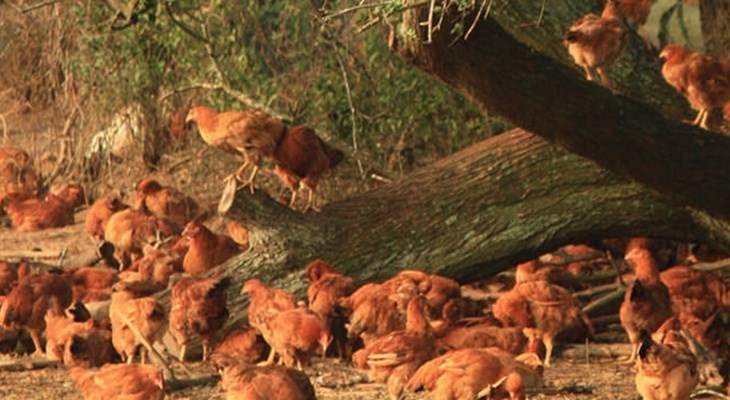 The following systems offer significantly higher welfare for meat chickens (also called broilers).
Free-range systems
In these systems, chickens are provided outdoor access during the daytime and sheds where they are housed at night.
With significant outdoor access, chickens have the opportunity to express natural behaviors like foraging, scratching, and perching in fresh air and natural sunlight. Because they typically grow more slowly and are able to exercise, free-range chickens have better leg and heart health and a significantly higher quality of life.
When used on poultry labels, the term "free-range" means only that some kind of outdoor access was provided. However, a number of third-party humane certifications have standards that establish more specific requirements regarding outdoor access. For instance, Global Animal Partnership requires that all farms raising meat chickens at Steps 3 through 5 of its 5-Step standards give birds over the age of four weeks continuous outdoor access, and the Animal Welfare Approved standards require the same for all certified meat chickens. Certified Humane requires that all certified producers raising free-range broilers provide outdoor access for at least eight hours per day for birds older than four weeks of age.
Organic
As with free-range systems, meat chickens certified as USDA Organic must be given at least some outdoor access. In addition, birds must be reared without antibiotics.
Higher welfare indoor
In these systems, chickens are kept indoors but are given more space. Their environment is enriched with straw bales, pecking objects, or natural light, which encourage natural behavior like foraging and perching.
In the US, Global Animal Partnership requires that all indoor broilers on farms certified at Steps 2 through 5+ must provide at least some enrichments, and Certified Humane requires that all indoor chickens must have enrichments.
In the UK, RSPCA Freedom Food broilers must be a slower-growing breed. These birds live for up to two weeks longer than conventional, faster-growing breeds. Currently in the US there are no accreditations that require slower growing breeds,
Find out how you can help to end the intensive farming of chickens.