11/3/2023
The 5th annual Reducetarian Summit was held in Denver this past weekend, bringing together a wide range of speakers and advocates from varying backgrounds to educate on how we can reduce our consumption of animal products to help end factory farming for good.
The theme of this year's summit was "resilience," highlighting the sobering fact that this work takes time and determination. The forces of Big Ag are deep-set into our society, but there is hope if we all come together and work towards a common goal.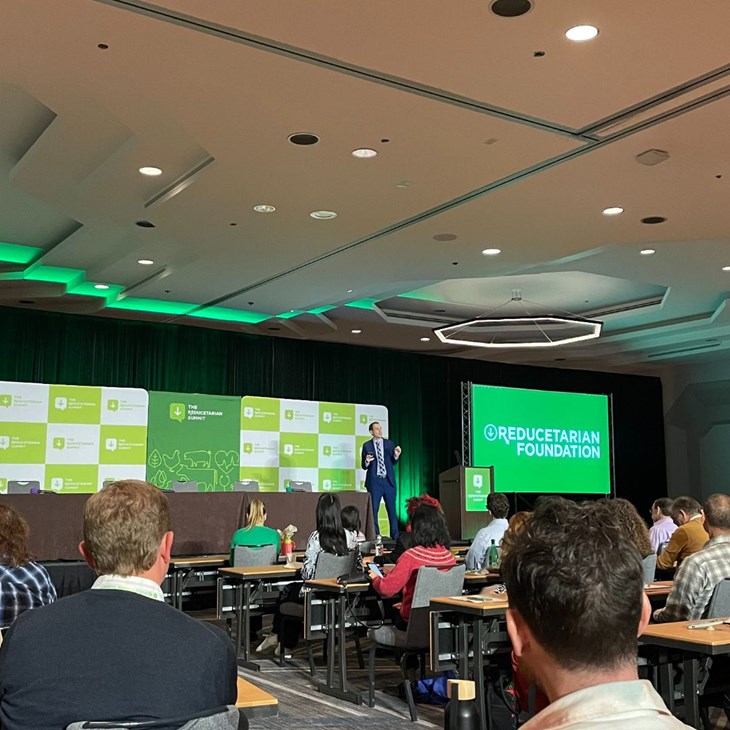 Attendees were greeted with a welcome ceremony where four bright Reducetarian Fellows presented data on how factory farming affects the environment, animals, human health and communities before the sessions began, starting with a discussion on how to market and scale cultivated meat with representatives from Atlantic Fish Co., Clever Carnivore, Mewery and Orbillion Bio.
Moving on to a breakout session, attendees learned how political action is transforming factory farming, including how the Peas, Legumes and Nuts Today (PLANT) Act, which would ensure the USDA supports plant-based diets, can help transition our system away from the factory farm model. Along with this, the recent Inflation Reduction Act has appropriated more than $18 billion in new funding specifically for climate-smart agriculture. The speakers reiterated that we need to defend and support these initiatives when speaking with our representatives.
Investors were able to attend talks on disrupting the market to invest in the future of food while campaigners were able to learn how to change what is on the menu from schools to hospitals to corporations. Summit sponsor Meati was represented in a plenary discussion on how innovative companies are transforming the marketplace with their plant-powered products, making it easier for consumers to reduce their animal-sourced food consumption and swap for a plant-based meal.
Learning how to reach new audiences was another key theme of this summit, as was "intersectionality." The intersection between motivations to end factory farming is not only effective at accomplishing this goal but also an opportunity to reach more people and get them on board. One tactic that was presented by panelist Chris Platt of Conservative Animal Welfare Foundation was a "trojan-horse" style conversational tactic. Co-opting a topic to get more people to listen to you enables the possibility of opening the door to your actual point. Another tactic presented by PopSockets founder David Barnett was to encourage people who are outside of your group to come along for the ride, rather than create a barrier to entry.
Sunday sessions made way for regenerative farmers and ranchers to educate the audience, including some skeptics, on how what they do matters. Contrary to popular belief, some animal farmers and ranchers are advocating for reduction. Hearing from these farmers was eye-opening and really spoke to the meaning of the reducetarian movement – every motivation matters. These farmers were able to share how they are offended at factory farming and that others in the reducetarian movement should not ostracize them because they are stewards of the land and know firsthand the effects of industrial agriculture. Kendra Kimbirauskas of State Innovation Exchange warned the crowd of the dangers of the End Agriculture Trade Suppression (EATS) Act and encouraged individuals to team up with a farmer and go to their representatives' offices together to show unity against factory farming.
Elizabeth Whitlow of the Regenerative Organic Alliance, in which Compassion in World Farming is a founding member, moderated a panel of regenerative farmers who are focusing on restoring soil in their fight to end factory farming. Whether they farmed animals or fruits, vegetables or nuts, all farmers agreed on how important soil health is to our environment and food security.
Animal welfare concerns, environmental/community threats, and human health risks are all valid motivations to reduce our collective meat consumption to help end factory farming. Even taking small steps to reduce can make a big impact on the greater good. Join Compassion in World Farming in reducing your animal-sourced food consumption and become a reducetarian today.