6/11/2023
by Allie Molinaro
Live Animal Export
Live animal export is a practice in which farmed animals including cattle, sheep, goats, and pigs are loaded onto trucks, ships, or railcars and transported to another country to be fattened or slaughtered. The journeys can last anywhere from several hours to several days.

Raise Your Voice - Ban Live Animal Exports
Tens of millions of animals are forced to endure long journeys over land and sea every year just to be slaughtered upon arrival. Compassion in World Farming is leading the fight to end this cruel practice.
Play video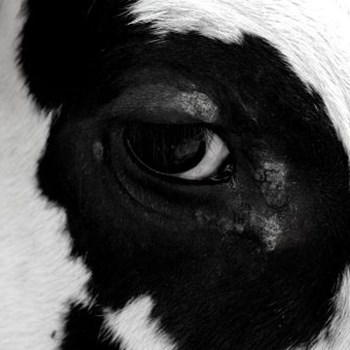 Play video
There are multiple welfare issues associated with transporting animals in this manner. Animals are often crammed into ships and trucks so densely that many are injured or trampled to death. Exhaustion and dehydration can also occur as they endure extreme temperatures without access to food or water. In addition, the inability to move or lie down properly or seek solitude can be extremely uncomfortable and stressful.
Accidents such as fires, collisions, route blockages, and sinkings can cause even more suffering for animals on board. Just last year, a ship carrying 15,000 sheep from Sudan to Saudi Arabia sank in the Red Sea after being loaded over capacity, drowning most of the animals trapped inside.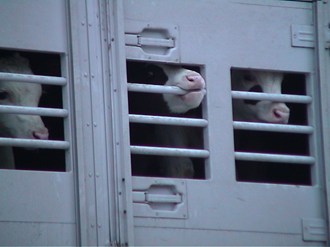 Finally, live export is a key pathway for the spread of disease, bringing deadly viruses to other regions and animals. The spread of diseases such as bluetongue virus, foot and mouth disease, avian influenza, and swine fever can be directly attributable to the live transportation of farmed animals.
Live export by sea is most common in Europe, Australia, Africa, and Asia. However, live transport is a reality in the United States. Live beef cattle are transported by ship or plane from Hawaii to Washington state. While most farmed animals raised in the continental United States are fattened and slaughtered domestically, transport from the farm to the slaughterhouse can take several hours to over a day by truck or rail.

Right Now: Your Gift to End Animal Cruelty Matched
Join our Ban Live Exports campaign and your gift to protect animals from needless suffering will be matched dollar for dollar, up to $10,000!
Donate Now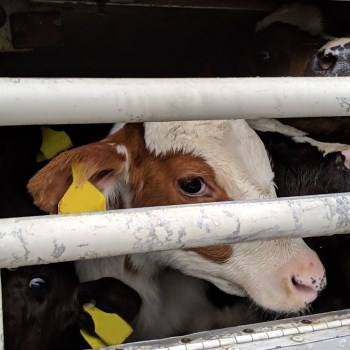 Global Policy
In response to outcries led by CIWF and other activists across the world, some governments have enacted restrictions on live animal export. This year alone, two countries have banned the practice altogether. However, the European Union and other countries have been slow to address the issue.
Brazil - On April 25th, 2023, the 25th Federal Civil Court of São Paulo ordered that no live animals should be exported from Brazil's ports. CIWF and partners sent a letter to an EU Commissioner to bring light to this ban and advocate for EU action.
New Zealand – On April 30th, 2023, New Zealand enacted legislation to ban live exports by sea.
Germany and Luxembourg – Both Germany and Luxembourg have banned live exports to countries outside of the European Union.
The European Union –The EU is currently revising its animal welfare laws, which also cover live transport and export to countries outside the EU. Demands for a ban on live exports must be stronger and louder than ever this year during this once-in-a-lifetime opportunity.  Germany, Luxembourg, the Netherlands, Sweden, Belgium, and Denmark (the VUGHT Alliance), have called for an EU-level ban on live exports to countries outside the EU.
While live export is uncommon in the United States, farmed animals are routinely transported long distances within the country for slaughter or fattening, after auction, etc. Under current US law, farmed animals are required to be offered a five-hour break from travel with food and water after 28 consecutive hours of transport. However, the extent to which this rule is followed and enforced is difficult to determine. Additionally, animals often fall or jump off trucks during transport, and while some are saved by rescues and good Samaritans, many of them die in the process.
Ban Live Export Awareness Day
In 2016, Compassion in World Farming and our partners held the first Ban Live Exports Awareness Day. Since then, every June 14, we have continued the cry to raise awareness about this horrific practice and urge those in power to ban live exports globally. Thanks to these efforts, we have helped achieve worldwide recognition, spark conversations in governments, and help achieve country-level bans in Europe. However, there is still much more work to be done.
How You Can Help
Make a Gift – Donate by June 30 and your gift will be matched dollar-for-dollar, up to $10,000! 
Spread the Word – Share this article on social media using the hashtag #BanLiveExports. 
---